Marvia launches Analytics
Marvia, the leader in Local Marketing Automation software, today launched their new product Analytics. It is a module where brands can easily measure the performance of their digital content and local marketing activities based on data. The product responds to the trend in which marketing is becoming increasingly data-driven.

With Analytics, brands can gain insight into the performance of their digital content delivered through Marvia's DAM and Branded Templates using data visualization in an easy-to-use dashboard. Users obtain data about, among other things, how often assets have been viewed, downloaded, how much content has been created and it provides insight into user activity.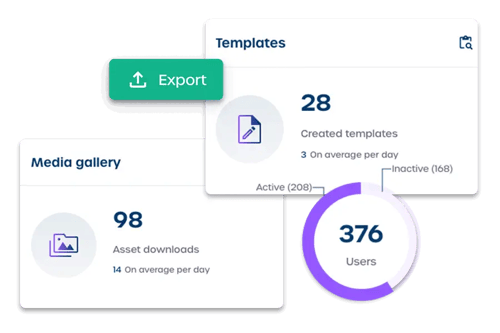 In addition to insights into the use of digital content, brands can also see whether and how often partners execute local marketing activities. With Marvia's Local Marketing Automation software, brands provide their partners or branches with tools to deploy marketing campaigns at a local level. With Analytics it is now possible to gain insight into how these local marketing tools are used by these partners and branches. For example, administrators of the tools can see how often the offered content has been posted on social media or which branches are participating in a marketing campaign. Partners that are inactive can be activated using notifications. With Analytics, the activation of local partners and thus the entire local marketing process is accelerated and simplified.

With this Analytics module, brands can better determine their content and local marketing strategy. "Our data-driven customers attach great value to continuously analyzing the results of their campaign," says CEO Joep Donders. "With Analytics, brands gain valuable insights into the performance of their digital content and local marketing. Sometimes a lot of time and money is lost on unused content. Marketers can now make decisions based on data because they can see which resources are appropriate and which are not. In this way, the Analytics tool contributes to better strategic content decisions and ensures that the ROI of content increases. Our existing customers are now using Analytics and are very enthusiastic."

For more information about Analytics, check out the product page here.
Stay in the Loop
Subscribe to our Newsletter
Get the latest news directly in your inbox, don't worry; we won't spam you. Unsubscribe at any time.