Elevate your Restaurant Marketing
Marvia for Restaurants
Having trouble juggling marketing responsibilities for multiple restaurant locations? Boost your restaurants' exposure effortlessly with our innovative restaurant marketing platform, without adding to your workload.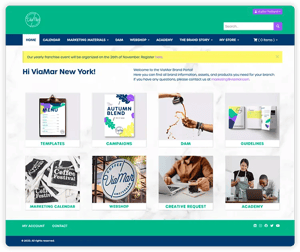 How Marvia helps restaurant chains
Create a centralized hub for sharing and distributing all branded materials;
Empower each restaurant location to cater to its specific market while maintaining brand identity;
Enhance collaboration between locations and the central marketing team;
Streamlining and automating marketing processes.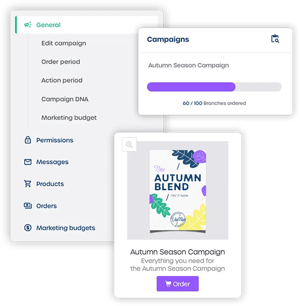 Key features for multi-location restaurants
Dynamic Templates
Localized content in an instant
Give your restaurant locations the power to produce personalized and meaningful content through dynamic templates. Create marketing materials that align with your brand and connect with your local customers, all while staying true to brand guidelines, and without the need for costly graphic designers.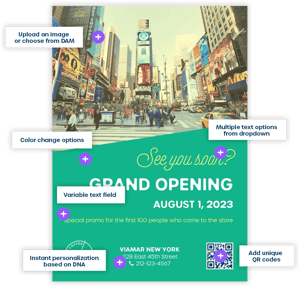 Marketing Shop
Ordering without hassle
Whether it's menus, tableware, consumables, or event products, we provide a convenient one-stop shop where all your suppliers come together.
We alleviate the hassle of administrative tasks by providing efficient budgeting, streamlined approval flows, and up-to-date inventory data.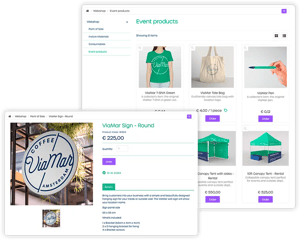 Happy restaurant users in over 90 countries
"Marvia offers us a digital one-stop-shop solution that gives us high flexibility and overview. In the admin, we have the possibility to adapt store information very easily. This perfectly fits our needs."
Social Media
Publish directly from portal to social
Promote national or regional campaigns across your restaurants' social media accounts, generating instant buzz for your brand and encouraging meaningful engagements.
Equip your locations with pre-designed social media posts or empower them to create their own captivating and brand-aligned content.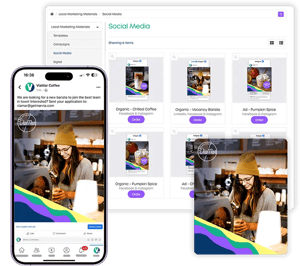 Digital Asset Management
Collect & share brand assets
Don't waste any more precious time hunting for the perfect video or image. Grant local users unrestricted access to your brand's entire collection of assets, all conveniently housed in one centralized location, accessible anytime and anywhere.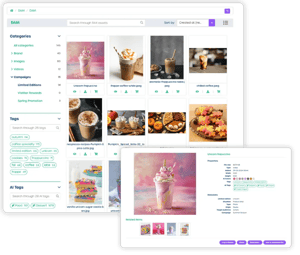 Part of your restaurant ecosystem
We understand the complexities of the restaurant industry and are dedicated to seamlessly integrating into your operational ecosystem.
We seamlessly incorporate your existing suppliers, including printers, POS systems, and food management solutions, into our portal, effectively streamlining your marketing operations.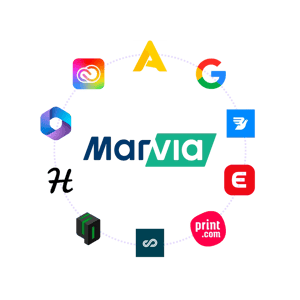 Ready to see what Marvia can do for you?
Get in touch today, and one of our experts will show you how our restaurant marketing software works and how it can benefit your brand.