A good local marketing strategy is not just adding a local flavour to your brand's national campaigns. The ingredients of an excellent local marketing strategy are to delve into your local market(s), know what's happening in this market, and know your local customer. You can think of targeted action, but localization of the product range and responding to local events fall under local marketing.
Brands that localize their marketing efforts will ultimately be more successful than brands that don't. So, is your brand ready to start with local marketing, but could you use some inspiration? We give you 15 examples of brands that show how local marketing is done.
→ Why is local marketing important?
1. Nike's "Nothing Beats a Londoner"
One of the world's best-known sports brands chose to set up a national marketing campaign in the United Kingdom aimed at one specific target group: young Londoners. The "Nothing Beats a Londoner" commercial shows different London youngsters who practice different sports in their own environment, in Nike clothing. Due to the enormous number of different London locations, and the typical English humour, every Londoner recognizes himself in the campaign.
This major local marketing stunt from Nike has resulted in a whopping 93% more searches for Nike products in London and 54% more throughout the UK. Why was this campaign so successful? In the past, Nike aimed at the masses in their campaigns and the brand only used well-known athletes. By having Nike products promoted by "normal" people and filming in London's "real" streets and sports fields, the campaign appeals to the Nike target group: young people in big cities. All standard London buildings and places that are usually used in campaigns have been omitted.

2. A new local store formula for H&M Amsterdam
H&M has recently introduced a new store formula that responds to the "new shopping" and the local wishes of the consumer. H&M Amsterdam is the first store to implement the new formula. For the new formula, H&M did extensive research into the wishes of the local H&M shopper in Amsterdam. They have expresses that they would like to have an H&M where clothes can be recycled, repaired, rented out, and sold. In addition, Amsterdammers would like to see more local brands in the store. H&M Amsterdam has complied with this.
Based on this new store formula, H&M has rolled out a local marketing campaign in Amsterdam. The campaign has been extensively rolled out at a local level, including digital out-of-home and Paid Social, targeting Amsterdam residents. In addition, H&M Amsterdam is the first H&M store to have its own Instagram account.


The intention is to roll out this new store formula in other European cities as well. In doing so, the wishes of the local consumer are again examined.
3. Ikea uses dialect to promote new Malaysian store
For it's new store in Penang, Malaysia, IKEA developed a local marketing campaign that celebrates the city's culture through the use of wordplay.
The city's dialect, Hokkien, is used for this local opening campaign. Many Hokkien words end with "Kia", so the campaign uses phonetic similarity of some popular Hokkien words and IKEA.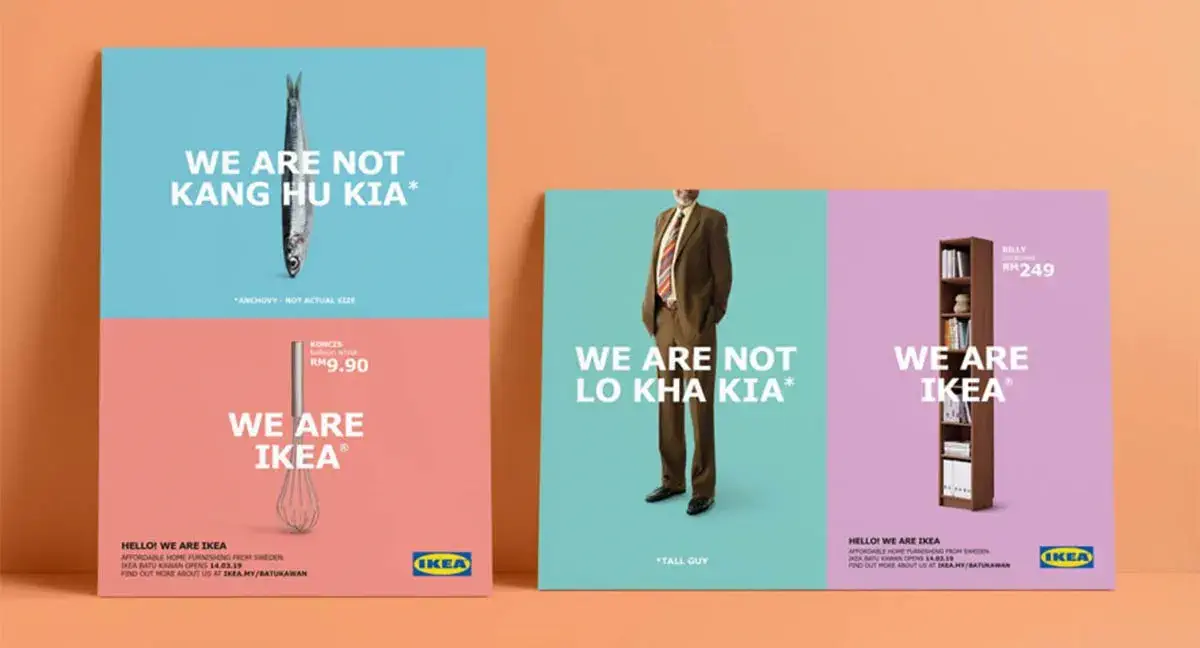 For example: showing side-by-side images of a chicken and a cabinet with the words "We are not Kay Kia. We are IKEA." Kay Kia is the Hokkien word for chick. Another execution features a tall guy and the Billy bookcase with the lines "We are not Lo Kha Kia (a tall guy). We are IKEA."
The campaign was launched on digital, print, social platforms and Out-of-Home. This opening campaign is a perfect example of well-executed local marketing; they have immersed themselves in the local culture and designed a quirky, funny, and original campaign based on that. With this campaign, IKEA tributes to the culture of Penang which is a great start in connecting the residents of Penang to the new IKEA store.
4. Morrisons supermarkets
support local food producers
Shopping with a big retailer should not mean consumers miss out on great products produced locally, at least not according to one of the largest supermarket chains in the UK. Therefore, Morrisons developed the Local Foodmakers Campaign to support local communities and offer products from producers who meet local food tastes and make their products within a small distance of Morrisons' stores. Moreover, they organize Local Foodmakers events to invite local food makers to showcase their products at a local community venue.
Morrisons already added more than 1000 new products from 240 local suppliers to their assortment. Is this local marketing? Yes, we see a trend in customers who wishes to shop local. Therefore, adapting the product range to the consumer's demand and local producers' supply is also a local marketing strategy.
5. Collecting your own team's sports cards at Jumbo supermarkets

Collecting trading cards has always been fun for children (and adults). But how cool would it be if you can collect
your own team's cards
? The Dutch Jumbo supermarkets chain rolled out a great campaign: "Collect your own local sports heroes". Every Jumbo branch
partnered up with their local sports clubs
, collected all their young players' photos, and created a local sports club album. With every €10 spent at Jumbo, customers get one pack of sports cards. This is an excellent example of local marketing where the brand really
takes the local community's interests into account
and supports the local sports clubs.


6

. Neighborhood beers from Singapore's local brewery

Singapore's Tiger Beer set up a marketing campaign with Singapore Tourism Board (STB) called Tiger District Bottles; 20 Singapore neighborhood themed beers. The Tiger District Bottles bring a local twist to Singapore's favorite local beer, with custom designs featuring elements that define each district's culture, designed by local artists. Besides that, STB brought 4 out of 20 Tiger District bottle designs to life through Augmented Reality technology, telling the stories of 4 districts.

Although Tiger Beer is active in more than 50 markets, they keep close to their original market and keep engaged with their local customers in Singapore's districts. Although the beer brand partners up with STB to attract tourism, the Singapore original beer brand is deeply passionate about showing locals and the world what Singapore is all about by creating this campaign and giving local artists a platform.

Besides the Tiger District Beers, Tiger Beer also keeps connected with the Singapore community during the COVID-19. They ask people to support their favorite local food outlets by buying vouchers. Tiger Beer promises to double the amount of these vouchers.
8. Dutch beer brand Bavaria aims at local Carnival celebrations
Local events are the perfect opportunity to initiate a local marketing campaign. Dutch beer brand Bavaria created a special campaign for Dutch Carnival. Those who aren't familiar with Dutch Carnival; it is only celebrated in two provinces in the south of the Netherlands: Brabant and Limburg. A quite local but big event.
Bavaria came up with something that many Brabanters and Limburgers have dreamed of for years: official days off during carnival. Their campaign #carnavalvrij (a holiday during carnival) called on all carnival celebrants to sign an online petition.
The message was made locally relevant by urging all towns and villages to campaign themselves. The campaign was rolled out widely on all social media channels and was supported by a national TV commercial.
The campaign was a great success; it was national news for days, kept minds churning in Brabant and Limburg and eventually resulted in a big march to the administrative capital of the Netherlands, The Hague. There the leader of the group, together with hundreds of carnival celebrants, handed over the signatures.
With this campaign, Bavaria has stolen the hearts of many Brabanters and Limburgers, exactly as it was intended: enhancing their brand position amongst the local audience. They wanted to engage with the carnival celebrants so that Bavaria would become the top of mind beer brand during the carnival. All content was viewed more than 4 million times and generated hundreds of thousands of likes, comments and shares.
9. Localized McDonalds Menus
If we have to mention the textbook example of local marketing where the product range is adapted to different markets, it's the McDonalds menu. Anyone who thinks McDonald's only sells BigMacs, Chicken Nuggets, Cheeseburgers, and McFlurry's is wrong. McDonald's has been adapting its range to the countries in which it operates for years. To name a few examples: in Spain, they have the "Patatas Deluxe", in India the "Dosa Masala Burger", in the Netherlands the "McKroket" and in South Africa, they have replaced the standard BBQ sauce for the McBraai sauce.
Do you have a multi-location restaurant? Check out these 7 local marketing ideas for restaurants
10. Nike's Chinese New Year collections
Another great example of adapting the product range to different markets. Every Year, Nike celebrates Chinese New Year with a unique shoe collection. The yearly tradition allows Nike fans to buy limited-edition sneakers inspired by traditional Chinese design.
This Year's collection, the Year of the Ox collection, was inspired by Chinese temple fairs, traditional folk events with fireworks, performances and seasonal treats. The colors and materials that have been chosen for the sneaker designs reflect three themes that are symbolic of the Year of the Ox: decorative golden knots, fireworks and spring blossoms.
11. Royal

Caribbean Mother's Day Campaign

International cruise line brand Royal Caribbean already had different Social Media accounts for the different countries they operate in, which is already a good strategy when localizing your marketing. However, Royal Caribbean searched for a European social media strategy that took into account the particularities market but followed the same strategy for each country. For their mother's day campaign, they came up with typical "mother's phrases" linked to experiences within the ship that users could enjoy. Many brands would roll out the same content in different languages, but Royal Caribbean adapted the content to the particular market: the phrases were culturally adapted to the most commonly used "mother's phrases" for each country, equalizing the overall concept particularity of each market. A simple execution of a smart social media strategy by delving into the local market to localize and personalize the content.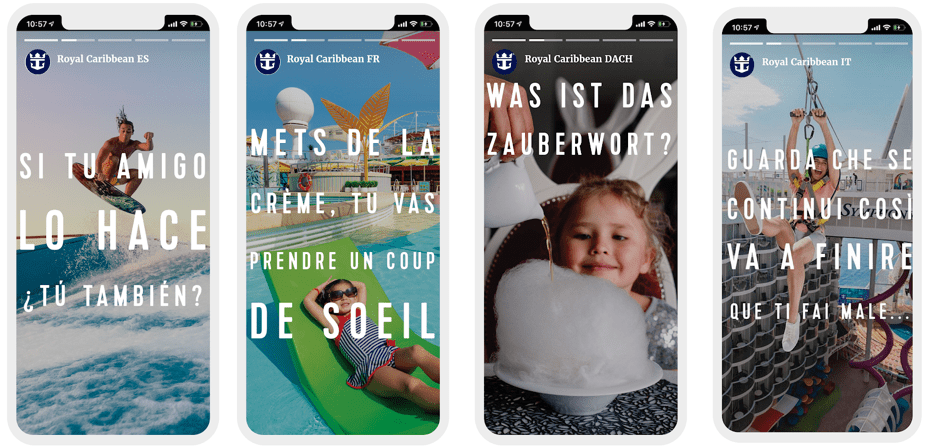 Source: Goodrebels.com
Local marketing can of course also be carried out on a much smaller scale. Just take a look at the local marketing examples below:
12. Groceries for a free soccer game ticket
A nice collaboration between dutch soccer club Vitesse and the local grocery store chain Albert Heijn. When you spend €20 on groceries, customers received a voucher with a unique discount code for a free soccer game ticket—a great example of local marketing where
entrepreneurs collaborate with other regional parties
.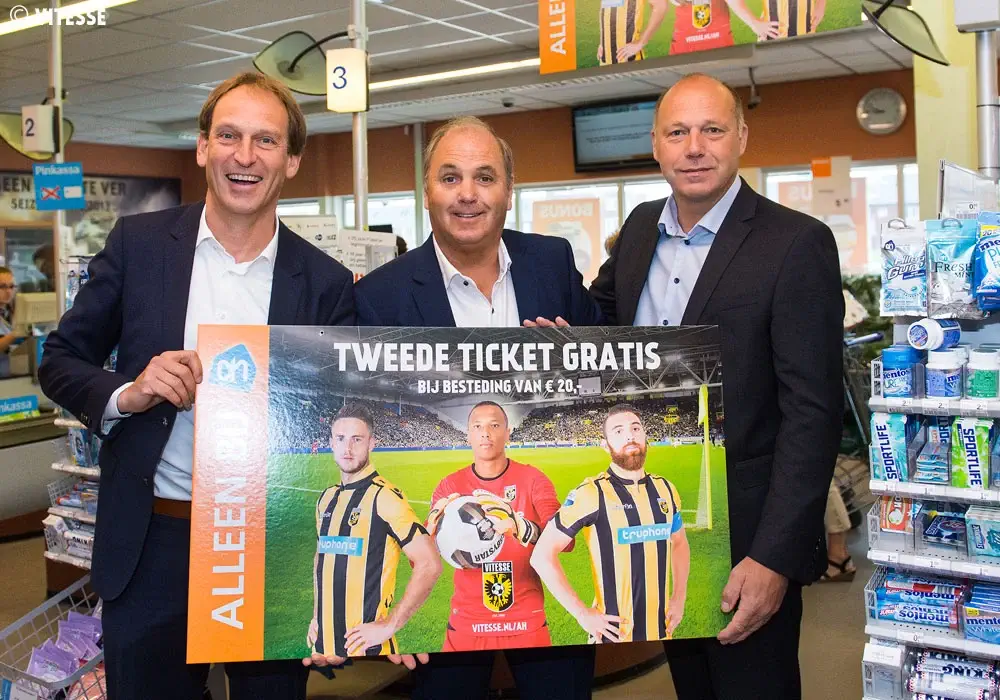 13. Rituals Eindhoven offers a personal delivery service
An initiative of local entrepreneurs, which we see more often during the second lockdown, but this Rituals store in the Netherlands started early with a personal delivery service. This way, you don't have to order everything online, and as a customer, you can shop at your own Rituals location. The delivery service is easy, fast and also very personal. The employees who usually stand in this Rituals store will personally deliver your package. How nice is that?
→ Check out these other local marketing ideas for retailers
14. A Monopoly game of your city
We all know the classic Monopoly games, but this PLUS supermarket in Pijnacker, a small town in the Netherlands, came up with a very nice local promotion: residents of Pijnacker can save for a special Monopoly game of their own village. The PLUS branch initiated the local game and customers could make suggestions for Pijnackers streets and buildings that really should not be missing in the Monopoly game. Who wouldn't want a Monopoly game of their own city?
This is a great example of how local marketing should be done. This supermarket is doing well in terms of local marketing anyway; they free up a lot of space for local suppliers, catering and even books from a local bookstore.
15. This Morrisons branche donates to local food banks
A great example of local marketing where a local branch supports the local community. At this Morrisons branche in Southwark, customers can purchase a food bag for £2, which will be donated to the local food bank of Southwark.
As you can see in the examples above, local marketing doesn't have to be complicated!

Would you like to know more about local marketing and how local marketing can bring you closer to your customers?

Read these blogs: