According to a Salesforce research, 76% of customers expect companies to understand their needs and expectations. One way to do this is to offer a more personalized shopping experience. However, for retailers with multiple national or even international stores, this can be quite a challenge. Numerous studies show that customers prefer shopping at local retailers for a more personalized experience and distinctive products or services. It is safe to say that localization is a crucial success factor for retail marketing campaigns. That's why we recommend every large retailer to implement a local marketing strategy.
Local marketing is not only for small, local businesses. A national or global marketing campaign is essential, but for multi-store retailers, it is essential to connect with these stores' local customers. Your brick-and-mortar stores are the places where customers and your staff connect. Your brand's national campaign can feel impersonal for your customers, while local marketing campaigns can make the customer feel personally involved. "Think global, act local" should be the starting point for large retailers. But how to act locally? We give you some local marketing ideas for retailers.
1. Use local media
Why would you rely on national media when your local stores can target their customers via local media? Regional newspapers, radio stations, or even television channels effectively target local customers, especially when you localize the message. By using local media, you will increase your brand's visibility in your local community.
2. Localization of products and assortment
Using customer data and insights, you can add products that are more relevant for each store's customers. By using tools that analyze customers' purchases and online searches, you can adapt your assortment to this data. Furthermore, you can search for local shopping trends or events in each store's region. For example, when there is a marathon held in one of your store's cities, you can choose to highlight your sports equipment or add them to your assortment.
Localization of assortment can also mean adding products that are made by local suppliers. Customers nowadays add more value to local products to support the local community. For example supermarket branches that cooperate with local farmers or cheesemakers.
3. Support local events and communities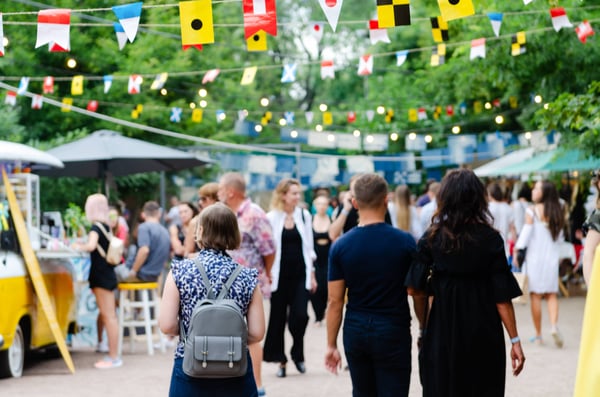 You might think that sponsoring big (inter)national events is the most effective way to reach a broad audience. This might be the case, but local customers don't feel more engaged with your brand as mentioned earlier. Think about letting your local stores support local events. When your local customers feel that your company is integrated in their community, they are more likely to purchase at your store. From supporting the local hockey club to sponsoring the annual city festival, supporting the community can be done in many different ways.

When you think of the previous marathon example, imagine you are a retailer in sports products and the marathon is held in one
of the cities you are operating. How nice would it be if your local store could sponsor the event and offer a discount code to all marathons participants when they show their medal afterward. Besides, local events are the perfect place to spread (localized) merchandise. Branded water bottles will be highly appreciated at a marathon ;)
4. Localize your digital marketing
An online marketing strategy is not only useful for national or global marketing campaigns. Your local customers also want a personalized shopping experience online. Besides offering an excellent personalized, offline experience, offer a localized online experience as well. Implement a local SEO strategy and optimize your website for the different countries or regions you're operating in; create country pages, and add localized keywords such as city names to increase organic search.


Furthermore, geo-target your paid ads and make sure your search engine advertisements contain relevant local keywords. Especially for the retail industry, adding location extensions in Google is very useful because they will help your customers find your physical stores. By creating local campaigns in Google, you can attract your local customers to your physical stores through ads on the search and display network, Google Maps, and Youtube.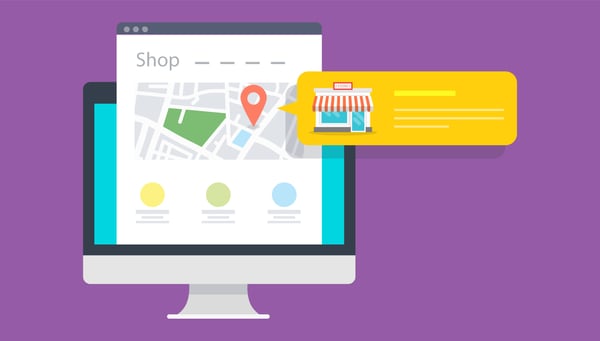 5. Go local on social!
Social Media might be the quickest way to connect with your local customers. By letting your branches be in charge of their Social Media accounts, stores can easily connect with their community. Let your stores manage their own Facebook and Instagram accounts, where they can promote their special offers.

Social Media platforms are also the perfect place to engage with your customers. Tell your followers on Social Media about a new co-worker or organize a special local Instagram-giveaway.
How to do this?
After reading the above, a few questions will probably arise. First, how do you give local stores this autonomy without weakening your brand identity? And second: how do you activate your local store managers to get started with local marketing?
A little technology like lokal marketing automation software, can help retailers out with localization efforts and more. With a Brand Portal, retailers can decentralize their marketing efforts without weakening the brand identity. Empower local stores to create their on-brand flyers, social posts, videos and more by using Branded Templates. You can share best practices between branches or let them order complete local campaigns with just a few clicks. An extra plus is that it helps reduce operational marketing costs as well.
To learn more about how local marketing automation can help with retail localization, explore Marvia's local marketing automation software.