How Marvia helps brands
Create 1 central location to share and distribute all branded material.

Offer locations the tools to capitalize on local marketing insights.

Improve partner participation in marketing and advertising.

Quickly deploy new campaigns and product offerings.
Stay compliant with (local) regulations.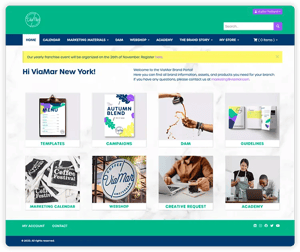 Dynamic Templates
Content in an instant
Empower your partners and locations to create tailor-made content using dynamic templates. Craft marketing materials that cater to the specific needs of their local customers while staying true to the corporate brand guidelines.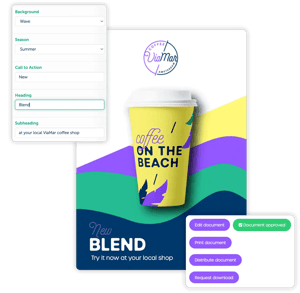 Local Distribution
Spread campaigns in a few clicks
Enable locations to effortlessly distribute tailored campaigns across various channels, both online and offline, with just a few clicks. Relieve the central marketing team from excessive burdens, streamline administrative tasks, and ensure a unified campaign message.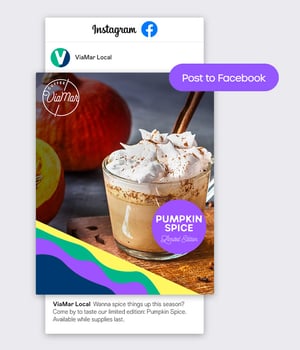 ROI Data
Produce more, while putting in less
The proof is in the pudding. See how a restaurant chain with over 300 restaurants got its marketing team back to strategic work using Marvia's hospitality marketing software.
3000
$
Saved / week on content creation
57
%
Increase in amount of content created
1700
hrs
Saved / year on repetitive tasks
83
%
Time saved on creating localized content
Marketing Shop
Experience order efficiency
Whether it's menus, tableware, event produts, or stationery, we provide a convenient one-stop shop where all your suppliers come together.
We eliminate the administrative burden with streamlined budgeting, approval flows, and real-time inventory data.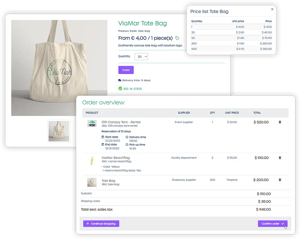 Happy users in over 90 countries
"We are incredibly happy to now be able to give our franchise partners the opportunity to receive customized marketing materials in a simple way with this toolbox. In addition, the toolbox not only facilitates our work in marketing through dynamic adaptations and automation but also helps our partners, such as our creative agency, to deliver faster and with greater quality assurance. We are sure that this will enable us to further advance our marketing and sales goals"
Ready to see what Marvia can do for you?
Get in touch today, and one of our experts will show you how Marvia's hospitality marketing software can benefit your organization.