Poké Perfect chooses Marvia as tool to support franchisees with local marketing
The fast-growing healthy food concept Poké Perfect has found the ideal partner in Marvia to fulfill their ambitious growth objectives and to support (new) branches with local marketing activities.

The concept that was founded in 2016 is already the largest poké concept in the Netherlands. Poké Perfect currently has 11 locations in Amsterdam, Utrecht, Almere, Haarlem, Den Bosch, Dordrecht, Leiden and Nijmegen. Since they recently received a major investment, the company aims to open a minimum of 25 locations in the Benelux within three years.
To achieve these ambitions, the organization is planning to focus more on local marketing. That's why Poké Perfect has chosen for Marvia. Poké Perfect works with enthusiastic franchisees, who can use Marvia's tools to run local campaigns themselves and offer their customers a personal and local service. "In this way, the local visibility will be even better and we can bring the wide and varied range of our healthy fast-food concept to the attention of more people, without it costing our local entrepreneurs a lot of extra time and manpower," says Quinta Witzel, one of the founders of Poké Perfect. "We noticed that it was becoming difficult for everyone to keep an overview next to the day-to-day business. It is very useful to have all marketing and promotional materials in one place. The marketing calendar, the flyers, current promotions - everything is clearly visible to everyone and it is easy to plan in advance."

Joep Donders, CEO of Marvia, thinks Poké Perfect is a great addition to Marvia's customer portfolio: "Poké Perfect is a sustainable food concept that works with many local suppliers. This also appeals to us a lot. In addition, it is cool to be able to contribute to the enormous success of this Dutch company that is expanding internationally."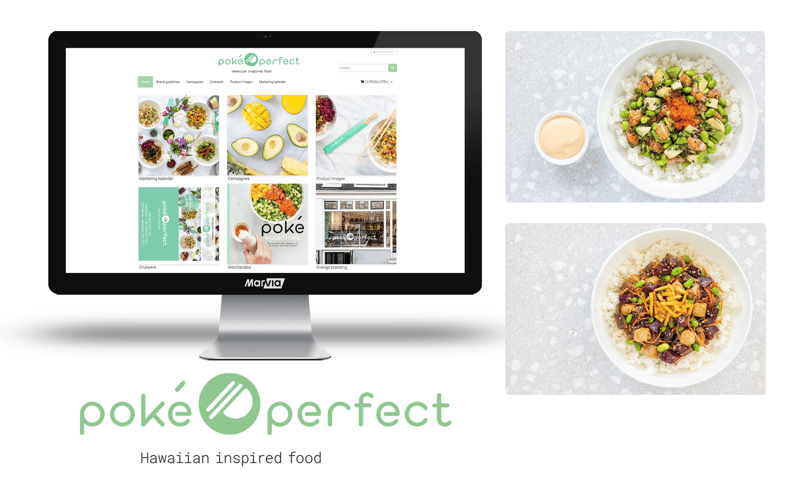 Stay in the Loop
Subscribe to our Newsletter
Get the latest news directly in your inbox, don't worry; we won't spam you. Unsubscribe at any time.