Marvia streamlines design process with Adobe Creative Cloud integration
Local Marketing Automation platform Marvia has further expanded its services with a new integration: Adobe Creative Cloud. Using the connection between Marvia's Digital Asset Management system and the Adobe apps Indesign, Photoshop and Illustrator, After Effects, and Premiere Pro, companies can now streamline their creative process and organize it more efficiently.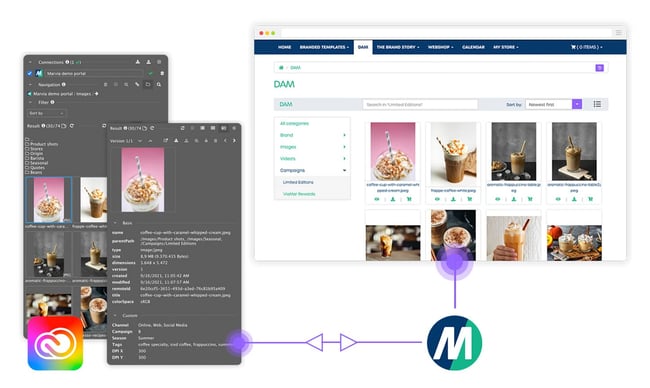 Design teams are often forced to download and save files such as photos and constantly switch between various programs and screens," explains Merlijn Bruijnes, CTO of Marvia. "With our Adobe Creative Cloud integration, this is no longer necessary. All assets stored in Marvia's DAM can be viewed and used immediately in the media library of the Adobe applications. For example, images can be selected and used within the Indesign program. The result is that a design process within a central marketing team can be set up much faster without extra actions."
The implementation of the Adobe plugin is the first result of the collaboration that Marvia and CI HUB started in October. Merlijn: "The customers who already work with it are very enthusiastic and are saving a lot of time in the creation process." This plugin for specific design purposes will gradually be expanded. Integrations with plugins for Google Workspaces and Microsoft Office are also planned for next year.
Discover more about the Adobe Creative Cloud integration
Stay in the Loop
Subscribe to our Newsletter
Get the latest news directly in your inbox, don't worry; we won't spam you. Unsubscribe at any time.