Adobe CC Connector
Streamline design processes in Photoshop, InDesign, Illustrator, After Effects, and Premiere Pro
Creative processes are becoming a lot easier and faster with our Adobe Creative Cloud Connector. This integration allows you to use stored assets in the Marvia DAM directly in your Adobe applications and to save designs directly in the Marvia DAM without leaving the Adobe app.
This not only streamlines your design processes but also reduces time, resources, and the chance of errors.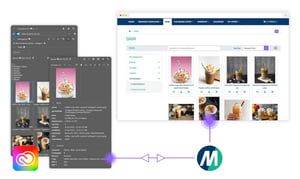 Benefits
Create new content faster
Supports the decentralized editing of content
One central place for all your assets
Easily find approved assets and save time
Always work with the most recent files and versions
Users can only use assets in their designs that are approved for them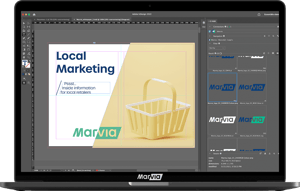 Features
Integration with InDesign, Photoshop, Illustrator, After Effects, and Premiere Pro
Search your assets directly from the Adobe CC apps
Upload created Adobe files directly to the DAM without leaving the app
Search and filter your content with tags and metadata
View all relevant details per asset, including custom meta tags
Update and save new file versions back to the DAM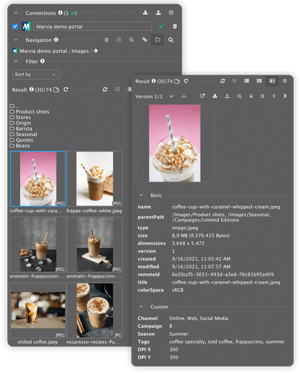 See it for yourself
Want to see our Adobe Creative Cloud connector in action?
Request a free demo and our experts will show you how the Adobe CC integration works.