From a variety of word art posters to a consistent brand identity on all marketing material created with templates. Marvia helps Stayokay to present the brand internationally uniformly in an efficient manner.
About Stayokay
For 90 years, local and international guests have been checking in at Stayokay for new adventures and experiences. With approximately 1 million overnight stays per year, Stayokay is the largest provider of budget accommodation in the Netherlands. Stayokay cooperates with Hostelling International; a network of more than 4,000 hostels worldwide.

Client request
Stayokay consists of 22 hostels throughout the Netherlands that all want to communicate specific information with their guests. This can vary from new menus, a flyer on the elevator which is out of order or one that announces events. "Before we used Marvia, the hostels made posters themselves. They did this mainly in Word with the well-known Word-Art. " Says Frank Bouwman, marketing consultant at Stayokay. "Of course, this did not fit within the branding and the desired look of Stayokay. In some cases, the hostels had the posters designed by a designer, but this process was often slow and, moreover, costly".
​
Stayokay was looking for a solution that offered the branches the opportunity to make marketing materials quickly and within the corporate identity and thus ended up with Marvia.

How Marvia helps
According to Frank, the Template Manager mainly ensured that self-made A4 sheets were no longer hung in the branches. "All means of communication, often posters, are now all in the Stayokay corporate identity. In addition to the fact that this is more beautiful and clearer, it also gives a professional look that we were looking for".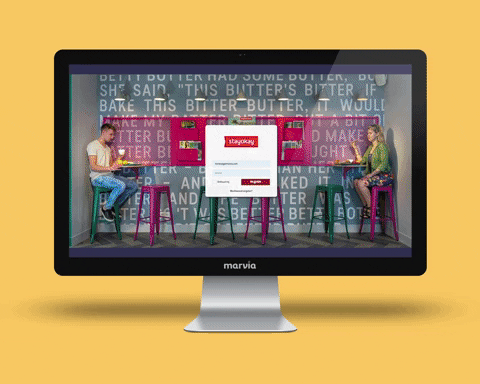 In the Stayokay environment, we combine a template manager and digital asset bank. Now that the hostels are no longer dependent on a designer, they are more likely to make marketing materials. Each location has login details and can create a poster within ten minutes and then print it or have it printed at the local printer.
We are very satisfied with the tool and are now even looking at what further steps we can take. Currently, we only use 2 tools Marvia offers but we would like to extend this to a general Brand Portal. In this way, we can facilitate our hostels even further and continue to work on the recognisability of the Stayokay brand in our hostels and beyond. This would be a nice next step that we would like to take together with Marvia.

Frank Bouwman, marketing consultant at Stayokay
Want to know more about our Marvia brand management tools? View our customer cases or read more about our marketing tools for hotels.
---
11 October 2019 By Joep Donders
Recent Article
13 February 2020
Marvia gives "franchise of the year" fit20 fuel for international growth

---
31 October 2019
Pleegzorg Nederland: How to support a nationwide campaign with templates

---
11 October 2019
Stayokay: from Word-Art to colourful templates

---
15 April 2018
Marvia provides PostNL with an online brand portal

---
14 April 2018
Marvia gives Domino's Pizza a better local presence

---