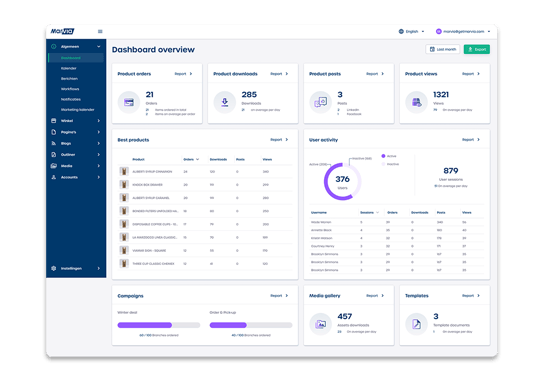 The new admin enables administrators to organize and maintain their brand portals better and faster.
The new admin includes:
A fresh new design
Improved usability
The new Analytics module
New and optimized features


Classic Admin
Almost all modules are now added to the new admin. The classic admin will be accessible until the end of this year, for the few modules and features that are not yet available in the new admin. We will let our users know when we fully transition to the new admin and leave our classic admin behind.
Let us know what you think
Please share your thoughts and wishes so we can further optimize the new admin. You can find our feedback form when you click the question mark in the top menu bar of the new admin.
If you have any questions, please consult the knowledge base or contact support@getmarvia.com. Check out our changelog to stay informed about new (admin)features and (bug)fixes.
New admin - Q3/Q4
Updated October 2, 2023
Order overview is completed.
Requests and Workflows are completed.
Update: The first version of our completely updated DAM is available in the new admin.
Posts overview is available. Other functionalities will be added in Q4.
Release Notes
Every quarter we give an in-depth update on new features and improvements in our release notes.
Check out our latest updates below.