Building and maintaining a strong brand requires continuous attention. The end product is never really "finished". From time to time, your brand and positioning need a refresh, even if it's just to adapt to newly developed market standards.
In this article, we list five crucial considerations for when you are about to rebrand.
What is rebranding?
Rebranding is the process by which an existing brand develops a new name, logo, design, or a combination of these, intending to create a different or new image.
Most people associate rebranding with restyling, the renewing of the company or product's visual identity. In reality, rebranding involves much more than just updating graphics.
Below are two examples to further explain the difference between rebranding and restyling: PostNL's rebranding and Amazon's restyling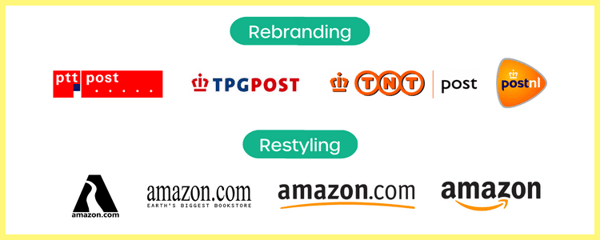 Reasons for initiating a rebranding
The process of rebranding is quite time-consuming (not to mention costly), so it's essential that it is done for the right reasons
You are entering a new market/markets.
Launch of a new vision/mission for your company.
A merger or acquisition that merges companies and house styles.
There are legal reasons to change your brand.
Your brand has built up a bad reputation.
Back to simplicity: your message has become too fragmented.
Once the decision to start rebranding has been made, it's time to go big or go home in terms of controlling the process. For your rebrand to be successful, you will undoubtedly want to keep these 5 considerations in mind.


1. Investigate and plan ahead
Rebranding is a complex project in which many parties are involved. With so many stakeholders in the process, communication is crucial.
Establish a "backwards planning" approach and determine what needs to be accomplished before launching. Ensure that pre-production is initiated on time;
Avoid known pitfalls by talking to industry experts or seeking out partners with experience;
Identify your company's ambassadors and involve them early in the process. By being involved, you will be able to roll out the program smoothly in the future;
Concepts should be presented early and tested with customers, preferably while still in the concept phase. The feedback you receive from these people is crucial since they are the people you are trying to reach with your new brand.


2. Rebranding is more than renewing your logo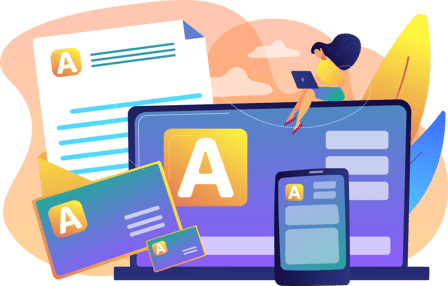 From offline to online, from audio to video, rebranding should be applied to all materials. No matter how small the change is, make sure the rebranding is applied directly to all materials. You must first determine what new promise your rebranding will make, how you will fulfill that promise, and then translate it into your marketing materials to ensure your rebranding is successful.
3. Launch your new brand through storytelling
A brand only comes to life when people understand your story. Therefore, it is vital that people immediately adopt your brand story
alive when people understand your story. It is, therefore, vital to ensure that people adopt your brand story immediately. Make it emotional and inspiring wherever possible. To maximize momentum, plan a launch event, invite customers in advance, and announce your new brand across all channels.


4. Bring your new brand identity to life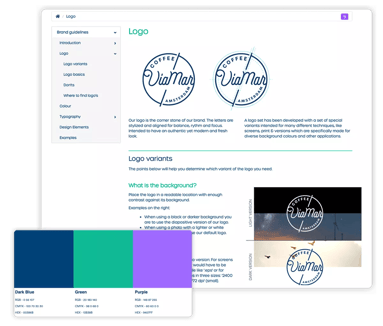 After putting so much energy into your rebranding, it would be a shame to see the adoption of the new brand lagging behind. Having your ambassadors introduce the new brand to your company and create new "fans" is crucial to bringing your new visual identity to life. Let the ripple effect slowly expand.
Take this from the ground up, not from your ivory tower:
Provide everyone with an up-to-date, easy-to-access digital style guide that describes your new brand identity;

Link your style guide to the right brand materials, such as logos, fonts, photos, and icons

Centralize your brand materials in a well-organized database such as a Digital Asset Management system.

Dynamic templates will ensure that all your materials adhere to your brand identity. Users only need to think about the content, not the layout. This saves time and increases relevance for your target audience.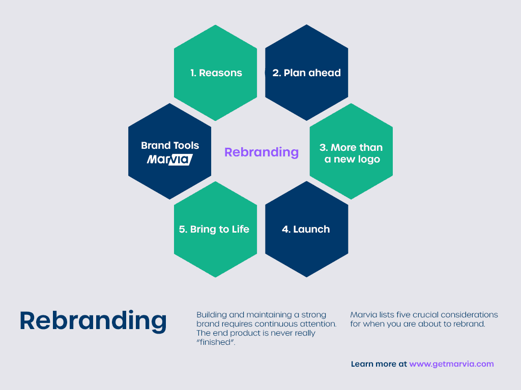 5. Use the right tools for consistency
As you can see, rebranding your company is not something that can be done overnight. Nevertheless, it can be an excellent starting point for a new phase of your business with good and careful planning.
Unfortunately, there are often lingering issues after creating a new brand, such as the use of old brand style elements in new communications or the mixing of old and new brand styles.
Fortunately, you can avoid a lot of trouble using the right tools. Using a digital brand guide, a digital asset management system, and templates ensures that your new brand is rolled out according to plan, effectively, and efficiently.
Do you want to know more about how Marvia can help with the rollout of your new brand? Check out our brand portal platform or request a free, no-obligation demo.