Our world resolves around brands. Marketers are continually working to build a strong brand identity with associated brand values. Consumers identify with these brands and values and even derive part of their identity from brands — all the more reason to handle the built-up brand identity carefully, for instance by ensuring that everyone who works with your brand has access to the right marketing materials.
That's why a Digital Asset Management (DAM) system can be a useful tool for marketing teams. This blog will discuss 6 reasons why your marketing department can't live without a DAM system.
Before we continue, you must first know what a DAM system is.
What is a DAM system?
A DAM or Digital Asset Management system is a software program that stores, organizes, and enables efficient re-use of an organization's digital assets (like logos, images, videos, and PDFs). It is often called a single source of truth for all assets that can be accessed in the cloud from anywhere at any time.
1. Boost Brand Consistency
You have been working hard to build a strong and recognizable brand. It's a shame if that work is negated by inconsistent branding. One of the top benefits of a DAM system is that your marketing efforts will be consistent across all channels and platforms. The number of touchpoints/devices and the amount of content created are increasing every year, driving the need for a DAM system even further.
2. Find assets without wasting time
To be honest, as a marketer, you spent a lot of time looking for that one perfect image or that specific video. Due to the large number of files that marketers have at their disposal, searching for the right brand files is always time-consuming.

While in a simple storage system, you can usually only search for things like name and date, a DAM is explicitly made for finding the right assets asap. DAM stores enriched and embedded information about each asset and use that every time you enter a search query in the search box. This metadata can contain copyright information, technical info, keywords, related items, or even customized metadata fields. We call that searching instead of trying to find.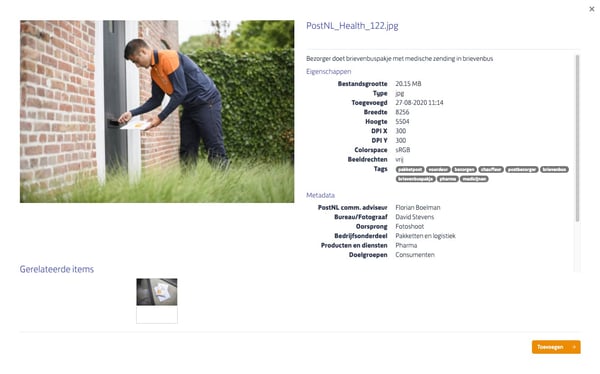 3. Files are always up-to-date
Old logos floating around on local drives, marketing content duplicated because people or teams don't share materials with each other. Does this sound familiar?
By using a DAM system, this becomes a thing of the past. All users and departments have access to the same updated asset versions. You can even track updates and the history of each file in real-time. Say goodbye to outdated logos on your latest social post.
4. Share Your Marketing Materials
Think about how you are currently sharing your marketing materials. Are you sending emails back and forth every day, using portable storage devices or are you sharing links to Dropbox? Either way, sharing content via a DAM system with those who need access is far easier (and visually more pleasing).
You can also share content for approval or feedback with your design team or let external designers upload their content created in specific parts of your DAM.
No more one-off logo requests; we all know it takes some follow-up emails around file type and size. Just let all stakeholders self-serve their needs with a one-stop portal.
5. Streamlines distribution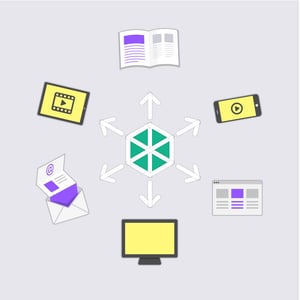 A DAM tool brings efficiency and agility to your content creation process. Version control, templating and workflow approval functionality reduce time spent on manual tasks.
A great DAM tool also streamlines your content distribution and enhances the distribution process across channels and other systems. It uses automation to create personalized content at scale which can be directly published on all your channels such as social, print, outdoor, and advertising.
6. Save
Save the best for last right? A DAM is a great tool to enhance marketing efficiency and reduce costs. Not only can you eliminate the cost of lost or misplaced work, but it also reduces the time-to-market, improves marketing team coordination, and allows you to re-use assets in campaigns.
Does your marketing team need a DAM?
Are you often unable to find a thing when you know you have them somewhere? Are your brand files fragmented across your organization? Do you want to take the overall brand appearance to the next level? Do you want to enhance marketing efficiency and streamline distribution?
Then it's probably time to add a DAM system to your MarTech stack. Learn more about our DAM software to see how we can work wonders for your marketing department!