Picture this. It's one of those promising Monday mornings when your energy is through the roof. You fire up your laptop, get into a comfortable sitting position, and prepare to blow the day's marketing goals out of the park.
But just as you're about to start working, you receive a Slack notification. It's one of your team members, Jack. He needs help finding a bunch of source files. Instead of kicking off the week on a high, you're now digging through hundreds of folders in search of these files. Ugh!
Does this scenario sound familiar?
Among the dozens of tasks marketing directors deal with every day, managing brand assets often takes up the most time. It's downright tedious and mind-numbing. The sifting, sorting, and organizing involved is no joke.
That's why it comes as little surprise that brand portals are fast becoming a marketing staple. They take the hassle out of brand asset management, allowing marketers to tap huge cost and resources savings. In other words, they bring with them an added value that's hard to deny.
What is a Brand Portal?
A brand portal is a digital space where you can manage and store all your brand assets in one place. It's an all-in-one solution that can consist of multiple modules like a DAM (digital asset management) system, Templates, and Guidelines. Acting as a central hub of sorts, a brand portal makes it easy to store, organize, manage, and distribute your brand assets. This can be anything from brand guidelines, and, brand templates but can also include a webshop, workflows, marketing calendar, and tools to distribute your content or campaigns. It's the home of your brand and makes brand management easier. By using a brand portal, you can optimize your brand asset management process and get a better handle on your brand identity. As a result, you'll be able to work smarter, not harder!
While enterprise DAM solutions contain all kinds of digital assets, brand portals incorporate assets used for marketing and branding purposes. A brand portal is a great way to centralize brand assets for your organization, save time and increase efficiency. And the best part? Your whole team can access these materials from any location without breaking a sweat!
Finding it hard to visualize what brand portals look like? Consider this example.
It's Halloween night, and children from the neighborhood are ringing doorbells asking for candy. Compare these kids to those interacting with your brand from the outside (i.e. clients or agencies). The candy they're asking for is comparable to your company's digital assets.
If, as a homeowner, you answer the door each time the bell rings, you're acting like a brand without portals. However, if you place a big candy bowl outside your front door with a sign that says "take one," you'll have created a brand portal. Every kid has access to their favorite candy, and you have no obligation to find candy for anyone.
It's worth noting that brand portals aren't solely meant for external partners. They're just as valuable to internal users (i.e., employees). These tools allow you to conveniently manage your digital assets internally and ensure everyone remains true to the brand identity.
Why use a Brand Portal?
Do you really need a brand portal?
Well, no more than your feet need shoes, or your cereal needs milk.
For C-suite marketers and marketing directors, brand portals are a must-have—and it's not just for their beautiful aesthetics. Which can include a branded hub that beautifully displays your company's assets.
Here's why you absolutely need a brand portal:
1. Centralize Your Brand Assets
With a brand portal, you can centralize all your brand assets in one place. This means that your team can easily find and use the correct brand assets when they need to. There's no more searching through folders of logos or digging through emails to find the right file. Everything is organized and easy to find.
2. To Present Your Brand in a Consistent Ma
nner
Guess what? Customers love it when a company has a consistent brand. In fact, consistent representation of a brand has been proven to increase revenue by a whopping 23%.
There's no better way to improve the consistency, familiarity, and visual look of your brand than through a brand portal. It does this by allowing you to push consistent branding—product photos, marketing collateral, design files, workflows and more—to the right audiences at the right time.
Needless to say, people are wired to trust a company that maintains the same personality and image in all of their interactions, irrespective of message or channel.
3. To Appear Professional and Valuable
When a brand's identity is cohesive, it increases the brand's perceived value. Consistency allows your brand to appear more approachable and valuable. By acquiring a brand portal, you make it easier to maintain the integrity and quality of your brand's image.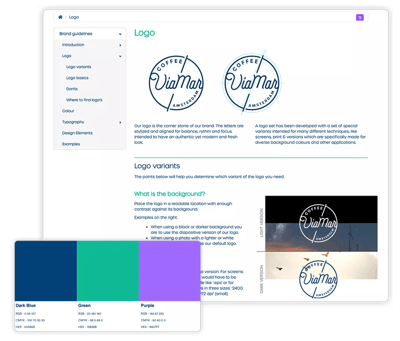 With a structured interface, all components of your company's image are organized and segmented:
Template Center
DAM
Brand Guidelines
Webshop
Documents


Brand Portal Benefits
Regardless of whether it is a small brand or a large company, getting all brand assets and marketing material under one roof and utilizing them successfully can be a huge challenge.
It's even more challenging when different people are involved in marketing and branding, or different users are addressed.
This is where brand portals can prove valuable. With your own brand portal, you can make the processes and content around your brand more effective by pulling them into one cloud-based platform.
Here are the benefits of using brand portals to manage digital assets:
1. Boost Efficiency and Productivity
Time-saving brand portals make it possible to quickly find and share the right brand assets internally and with external partners. With a brand portal, there's no need to search through email threads or shared drives to find the latest version of a logo or brand guidelines.
2. Speed up the Content Creation Process
A brand portal speeds up the content creation process by providing easy access to brand assets and eliminating the need for repetitive tasks such as digging through email threads to find the right file or brand guidelines. With a brand portal, you can quickly find the right photos, videos, and templates for your project.
3. Achieve Company Alignment While Keeping Your Assets Safe and Protected
Help your local teams align with your brand
Since brand portals offer a collaborative environment, each team member knows the ins and outs of your company's brand identity and strategy. The fonts, the color, the tone, the messaging— everything is clear as day with all parties looped into the plan.
Makes it easy to distribute assets and customize them accordingly
We don't need to tell you that brand portals facilitate optimum asset control. That's common knowledge, we dare say. Having complete control of all your brand assets gives you the authority to customize and distribute them to the relevant and designated team members.
Create lockable branded templates
Lockable branded templates are only available on DAM solutions, right?
Wrong.
Like we mentioned earlier, brand portals are merely a subset of DAM software, meaning they're just as good as the latter, if not better.
That said, brand portals typically feature built-in lockable branded templates, allowing users to create and publish content without using incorrect fonts, stretching logos, or creating unappealing layouts.
4. Easy Access to All Brand Assets
Bearing in mind that most brand portals are built with the user experience in mind, you and your team can seamlessly access digital content from any device. Yes, any.
Access and download content on the fly.
With brand portals, asset retrieval happens in a split second. Your team can access and download shared digital content at any time, wherever they are. Within the context of any marketing or creative workflow, this helps move steps along while reducing redundant and costly rework.
5. Brand Consistency Across All Channels
Ensure and automate a consistent brand communication
Maintaining a familiar brand identity is super easy when you have a brand portal. Most brand portals today, including Marvia, inculcate open APIs. With these intuitive and robust APIs, you can add an integration to other communication tools that you already have in your Martech Stack. The end result is consistent brand communication that every partner, employee, and agent marvels at.
Maintain an updated and relevant brand
It's so easy to run an old, inconsistent brand when your digital content is outdated. To make sure that never happens, you need a tool that retains only the latest assets while filtering out the outdated, crappy marketing material.
And no, a DAM solution won't cut it in this scenario. It's rather too generic. Instead, you need a tool that specifically focuses on your marketing assets, and that's a brand portal.
With it, you can effortlessly restrict access to legacy files and ensure that only the most up-to-date marketing assets are accessible. That way, your team can create, manage, share, and collaborate on assets and rich media without deviating from the outlined brand guidelines and strategy. Pretty awesome, huh?
Wrapping Up
While a corporate identity guide in PDF format might seem like the best way to manage your brand, it isn't. In fact when compared with a well-executed and thorough branding portal for organizations looking at both time savings as well as cost reduction from delivering high quality, consistent content – this "brandy" is embarrassingly overrated!
Feeling excited already? Give the Marvia Brand Portal a try today. Contact us to book a free demo, or if you'd like more info on our brand portal, download a fact sheet.