Even when a particular technology has massive benefits, it's always a challenge to get buy-in from top management and stakeholders. For decision-makers, it can be difficult to justify spending on something that may not offer a significant return or could disrupt existing processes.

But if you frequently rub shoulders with digital assets, you know how essential a DAM platform is to a company. Unfortunately, decision-makers may not always see the value in a technology they don't use. This is where you come in. As someone who works with digital assets daily, it's essential to be able to make a case for DAM internally.

After finding the perfect cloud-based DAM software, you want all who matter to know about the solution. Although it might be challenging to get their buy-in, it's not impossible.

Making a case for DAM is a matter of preparation and presenting benefits articulately.
Today, we give practical tips to help you build a DAM business case.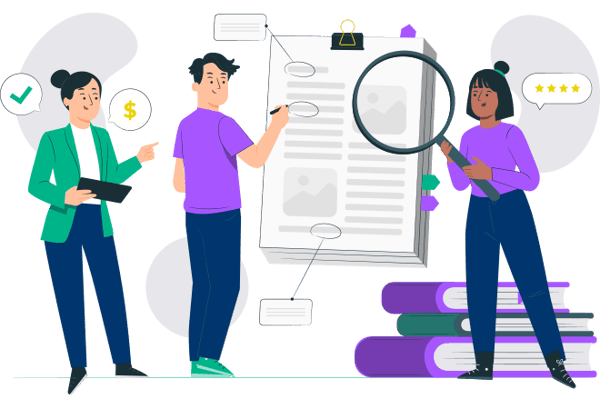 How to build a Digital Asset Management business case
It's a sure deal. People will always meet any proposal for a new idea, software, or technology with skepticism. So, if you propose a DAM platform, expect a little hesitancy and lots of questions. Here are some questions to expect when creating a DAM business case.
What is the ROI of implementing a DAM — The company will be investing money, and they sure do want to know what kind of results to expect. And most importantly, whether this return on investment is worth it.
What is the impact on workflows across different departments — Everyone would want to know if implementing a DAM platform will make their work more challenging or complicated. When making a case for DAM internally, focus on how the DAM platform simplifies everyone's work.
Can't our current software tool stack do the job just as well — If there is something that management doesn't want, it is investing in even more tools that solve a problem one of the current tools can fix as well. Especially in the case of a DAM, the idea may exist that current file hosting systems such as Dropbox or Google Drive may do the job just as well. Focus on showing the added value of a DAM and why it's essential when your company will scale in the future.
Will we win staff over to adopt the new DAM technology— This is a justifiable concern, especially from top management. Training staff to adopt and use a solution is no walk in the park. It takes time, and there's always a probability that the team may not take well to new software. But, if you've chosen the right DAM platform, this might not be a big challenge.
Will the new software create security problems— Malware attacks cost companies $2.5 million on average. Decision-makers need assurance that the DAM solution you're presenting won't be a cyber security threat.
All these concerns are justifiable; you'll need to address them when making a DAM business case to executives. Failing to address these concerns first means losing decision-makers to skepticism and doubts before making your case.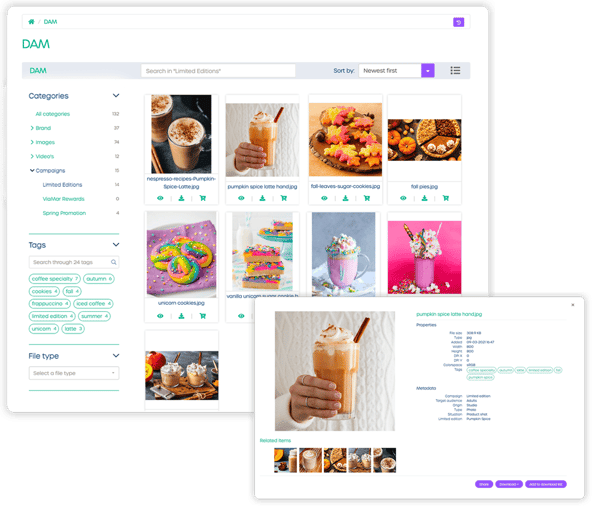 5 topics to include in your DAM case
The most persuading proposals use data, hard facts, and a deep understanding of the matter. When making your case, include information that persuades decision-makers and quells their fears and uncertainties.
You can't go wrong with these five topics when making a case for DAM.
1. Identify organization asset management challenges
Before anything else, study your current asset management systems. Do you have some sort of file management system in place such as Dropbox or Google Drive, or are you still relying on physical storage? How are people in your organization accessing these assets? Do they have to go through a lot of hoops just to get to the files they need?
Answering these questions will help you understand which areas of your asset management system need improvement. It'll also give you ideas on how a DAM platform can benefit your organization.
Studies show that employees can spend up to 2 hours on administrative tasks. For your employees, this can translate to time spent searching for brand images, campaign videos, document templates, etc.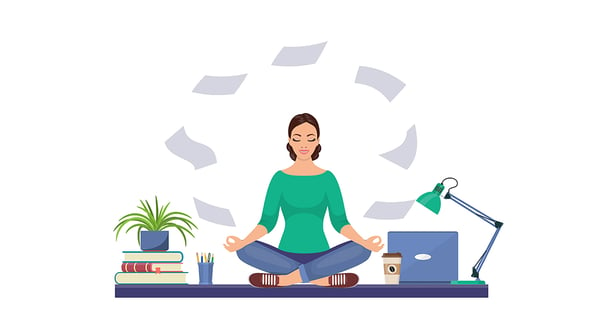 You can show decision-makers that adopting a DAM platform will help automate and centralize digital asset management in a way that frees employees from administrative tasks.
On the other hand, if you already have a solution, making your case might be more challenging.
First, understand your current DAM platform:
What tasks can staff do with the DAM?
Does the DAM make it easy to find, create, share or get approvals for assets?
Does it have the proper levels of permission and authority control?
Is it easy for staff to use?
What about the cost?
Does it deliver a promising ROI?
The answers to these questions lie in interacting with everyday users to unveil the challenges and limitations of the current software. Try to get specific complaints and issues that daily DAM users experience. This way, you'll paint an authentic and convincing picture as you present the DAM business case.
2. Explain how DAM solves your challenges
If identifying asset management challenges was the appetizer, this part is the main course. Once you expose the company's digital asset management inefficiencies, it's time to bring the solution to light.
Here are some benefits that'll make top management consider your proposal.
Increased efficiency
If your company operates brand asset management like a restaurant, then you're losing out on precious time. For instance, if an employee has to request(order) an asset every time they need one, it creates unnecessary time wastage and pressure on brand and creative managers. It also takes longer for the employee to get approval or direction to the right asset.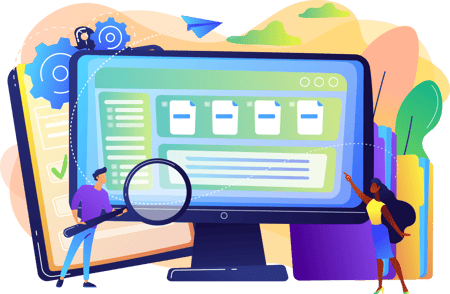 Conversely, a DAM platform is more of a hands-free, smooth-flowing system. Simply establish the proper permission controls, create an approval process, and all key employees can get access to the assets they need at the right time and in the correct format, always. More importantly, they don't need to rely on anyone to do it.
Maintain brand consistency
After good products and fantastic customer services, brand consistency is the next thing customers appreciate. But without a DAM platform to aid matters, it is harder to enforce brand consistency at all levels of the organization.
A DAM platform makes it easier for everyone to access the right digital assets when needed. Plus, controlling what type of digital assets staff use is easier if you possess a centralized platform.
What's more, you can improve your company's revenue by 23% with the help of a DAM platform to enforce consistency.
Provide asset access to remote teams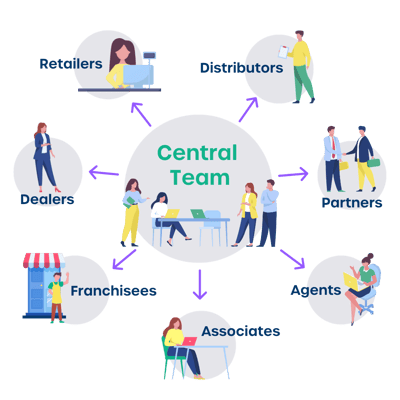 The best thing you can do for your remote team is to ensure they have everything they need when they need it. Digital assets are one of the major items your remote teams require to do their job properly.
With a DAM platform in the picture, remote teams only need to log into the DAM, search for the required asset, and deploy the asset where it's needed. That's one less email or clarification they need to make to the HQ.
Reduce compliance risks
DAM ensures assets being shared and used in each campaign reflect the brand. Brand and creative managers can easily create, monitor, and authorize all types of assets from a central dashboard.
For instance, a brand manager can lock in various designs in a template, allowing marketers to customize an asset. DAM software also extends compliance control by allowing automated watermarking, content dating, and definition of publishing rights.
Reduce costs
Unused and forgotten assets, off-brand media, and time lost in inefficient management of digital assets are losses companies incur without a DAM platform. Conversely, DAM technology streamlines asset usage and saves costs by preventing repetition, promoting brand compliance, and speeding up asset creation and distribution.


3. Highlight success stories
There's power in success stories. Yes, every brand is different, but sharing how a DAM platform helped other brands reach their goals is a sure way to persuade stakeholders.
Success stories will be more impactful if the examples you use are of companies in your industry. If one of the challenges you mentioned was brand inconsistency, share a story about how a particular brand used DAM technology to promote brand consistency.
Marvia has lots of customer success stories to help you make a case for DAM.
Here are two success stories to start with:
New York Pizza

, a brand with more than 200 branches, can now empower its local branches to create marketing materials faster with fewer resources, thanks to a DAM platform.
Duux

, on the other hand, has achieved better brand consistency and compliance when sharing marketing materials with resellers, courtesy of DAM software.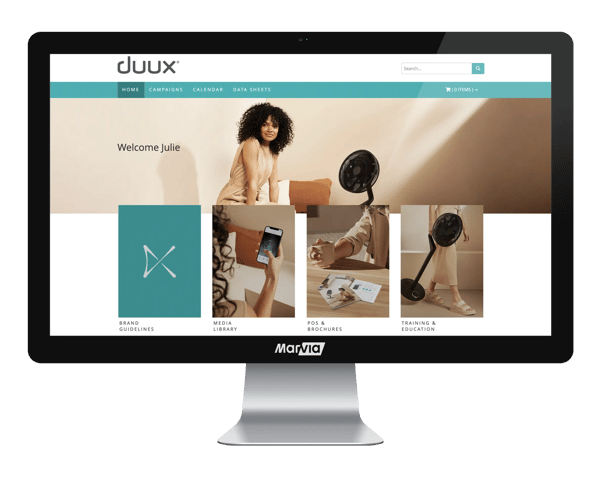 4. Have an implementation strategy
You've made a great case for DAM, and stakeholders are convinced. What's next?
Here's where you swoop in with a well-thought-out implementation strategy. Implementing new software will vary by company, but here are a few basics.
Assemble an implementation team
Every change within an organization requires a team to champion it. The same applies to your DAM implementation strategy. You'll need to put together a team to help train, communicate changes, and solicit feedback during implementation.
Create an education and training plan
Remember, you made the presentation to a few key decision-makers. But they won't be the only people to use the DAM platform. End users will also appreciate learning of the benefits, challenges a DAM platform solves, and most importantly, how DAM makes their work easier.
Get vendor support
The right DAM software provider will have tons of customer resources to help with implementation and adoption. You could also request more training resources from the provider to help everyone get up to speed with the new DAM platform.
Leave room for feedback
Implementing new technology is not child's play. You will most likely encounter rough terrains on the journey. However, you can mitigate the risks and uncertainties by having open feedback channels. This way, you have real-time feedback on what's working and what's not before taking corrective action.
Alternatively, you can glean insights from our post, the complete guide to DAM.
5. Provide an Estimate of DAM ROI
Business leaders make decisions based on three things 'Will the new solution make us money, save us money, or mitigate risk?' The good news is that a DAM platform can do all three. Be sure to include stats on the revenue boost, savings, and risks your company can avoid by using a DAM platform.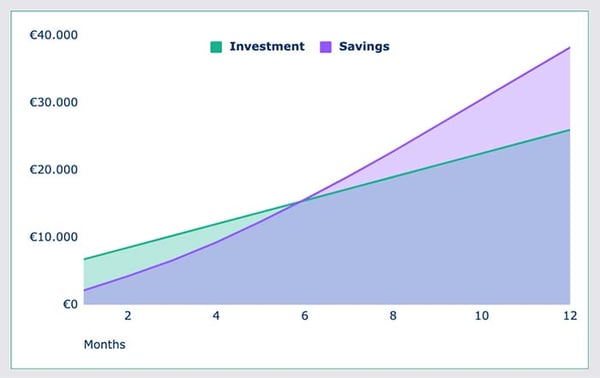 DAM software is a good investment for business
Making a case for DAM is easy if you understand your company's challenges and the benefits of having the right DAM software. More importantly, you need the data and facts to support your proposal and platform of choice.
If you need help making a persuasive DAM business case, contact Marvia. We can provide DAM success stories and help you develop a DAM implementation strategy. We also have an ROI calculator available to give you a clear picture of how much a DAM system will save in your specific situation.
Book a DAM demo now to see our DAM in action and start building your business case for a DAM platform.