For most global brands, English is the language of choice when it comes to writing content, crafting mission statements, putting out social media posts, etc. However, a great nemesis awaits those who only write brand content in English: customer alienation. After all, as a certain Customer Sense Advisory survey found out, 56.2% of consumers think the ability to obtain information in their own language is more important than the price.
That's right. More than half of consumers are willing to pay more if you're willing to give them information in their own languages. Wait, did you just open up a new browser to check out your favorite competitor brand and see how many languages they offer? If not, you should.
This brings us to the top of the day: brand localization. Now, localization isn't just about putting out content in a language that suits your local audience—it goes much, much further, as we'll get to find out in this blog.
Brand Localization—Quick Overview
"What does localization mean?" Ask most marketers that question, and they'll probably look at you funny. But for the sake of our time (and yours), we'll get right to it.
Brand localization, or marketing localization as some call it, is the process of adapting your company's offerings, messaging, and content to new global markets and countries. At its core, localization is meant to give the same look and feel to your brand - irrespective of your target audience's native language, local culture, or religion.
A word in English might bear a totally different meaning in Chinese and vice-versa. Similarly, a brand slogan loved by customers in Europe might be regarded as insensitive in some parts of the world.
The bottom-line? Having a well-thought-out brand localization strategy ensures every aspect of your company's branding is in the good graces of your global market.
Important Considerations for Marketing Localization
Your branding is a visual, impact-based representation of everything your company stands for and believes in.
But do your products, messages, images, logo, taglines, and other brand elements have the same effect in the additional countries you have a presence in?
It's crucial to consider all brand elements during the creation of your localization marketing strategy. So how do you make sure your cool, sparkling brand image doesn't fall flat on the global scene?
Here are several aspects to consider as you brace yourself to enter new global markets:
1. Brand Voice/Tone
Brand voice is the way you connect with your customers. It's how you communicate your brand's personality. It's the way you share your company's values and motivations.
As you enter new global markets, you'll likely need to adapt your brand's tone of voice, even if only very slightly. That's because audiences from different cultures have different expectations for how brands should communicate with them.
A confident brand voice may seem arrogant in an environment where people are more reserved and laid-back. Similarly, an individualistic brand tone may come off as selfish in a collectivist culture.
However, this doesn't necessarily mean that you need to change the brand's personality. It simply means you are refining and readjusting the tone of voice so that your brand is perceived as intended.
2. Language
"If you talk to a man in a language he understands, that goes to his head. If you talk to him in his language, that goes to his heart." (Nelson Mandela)
There's no bigger reason for creating a localization strategy than that.
Your brand might be going global, but as the saying goes, "all business is local."
In order to attract more people and convert more leads into sales, you need to speak to them in their native language. That means you need to tweak your content strategy altogether. After all, studies show that 70% of the world's web users don't speak English.
Your website or social media content may have gone down a storm in your home market, but that doesn't mean you can just transpose it to another market without adaptation.
You also need to do some research, not just into what spoken language they use, but also their specific dialect. Arabic is a good example of a language that's spoken across a wide range of countries but which has dialects that aren't always mutually intelligible to all Arabic speakers.
In addition, you also need to make sure you're using the correct vocabulary for your audience. For instance, despite its linguistic homogeneity, the U.S. has striking regional differences in which words people use for different things.
When preparing your content for translation, consider these key pointers:
Avoid idioms and other language-specific expressions that are hard to translate directly
Minimize words and wordplay
Avoid market-specific cultural preferences that don't have clear equivalents in other markets.


3. Culture
Another key consideration in the quest to localize your brand is culture, and it boasts a close affiliation to language.
A culture-aware brand localization strategy is one that expresses personality without getting under the skin of the target audience. That means everything from your content to your logo needs to be neutral and non-alienating. Avoid being insensitive to local culture by all means.
Motorbike brands are a good example of how brands adapt their approach to different cultures. In collectivist countries, motorbike brands talk about responsibility and how their brand and its products support society and family. When they venture into more individualistic cultures, the narrative changes altogether. Here, they communicate values such as freedom and adventure.
4. Brand Name and Taglines
It's always possible to keep company names in the original language for stronger brand recognition, such as what Nike does. If your company name or taglines are core segments of your brand outlook, you may want to localize these for specific markets—rather than adopting a name that may not be interpreted well in different markets and cultures.
These questions should get you going in the journey to finding the perfect brand name:
Will your name have the same meaning in a different language?
Might there be more than one meaning?
Are there any similar-sounding words that might have connotations? Good or bad?
How does your brand name sound to a native ear?
Are there any existing local or global brands with a similar name?
What kind of reaction does it produce?


Brand Localization Examples: 3 Brands That Actually Walked the Talk in Matters Localization Marketing
"Think global, act local."
These three brands took this slogan seriously and went on to create show-stopping, industry-shaking localization strategies. Here's their story:
1. Cola
Coca-Cola has become an indispensable part of the American dream. It packs the "American Dream" in the bottle, which is a symbol of creativity, vitality, passion, and optimism. But you'd be mistaken to think Coca-Cola only spreads and sells the American culture. To say that its localization strategy so far has been spectacular would be an understatement.
Take Coca-Cola's iconic "Share a Coke" campaign, for example. The campaign was first launched in Australia in 2011 and involved printing 150 popular names on Coca-Cola product labels and other promotional material. The motive behind it all? To encourage the idea of sharing a "coke" with someone. As you'd expect, the campaign was a huge success, particularly because the idea of "mateship" is very central to the Australian culture.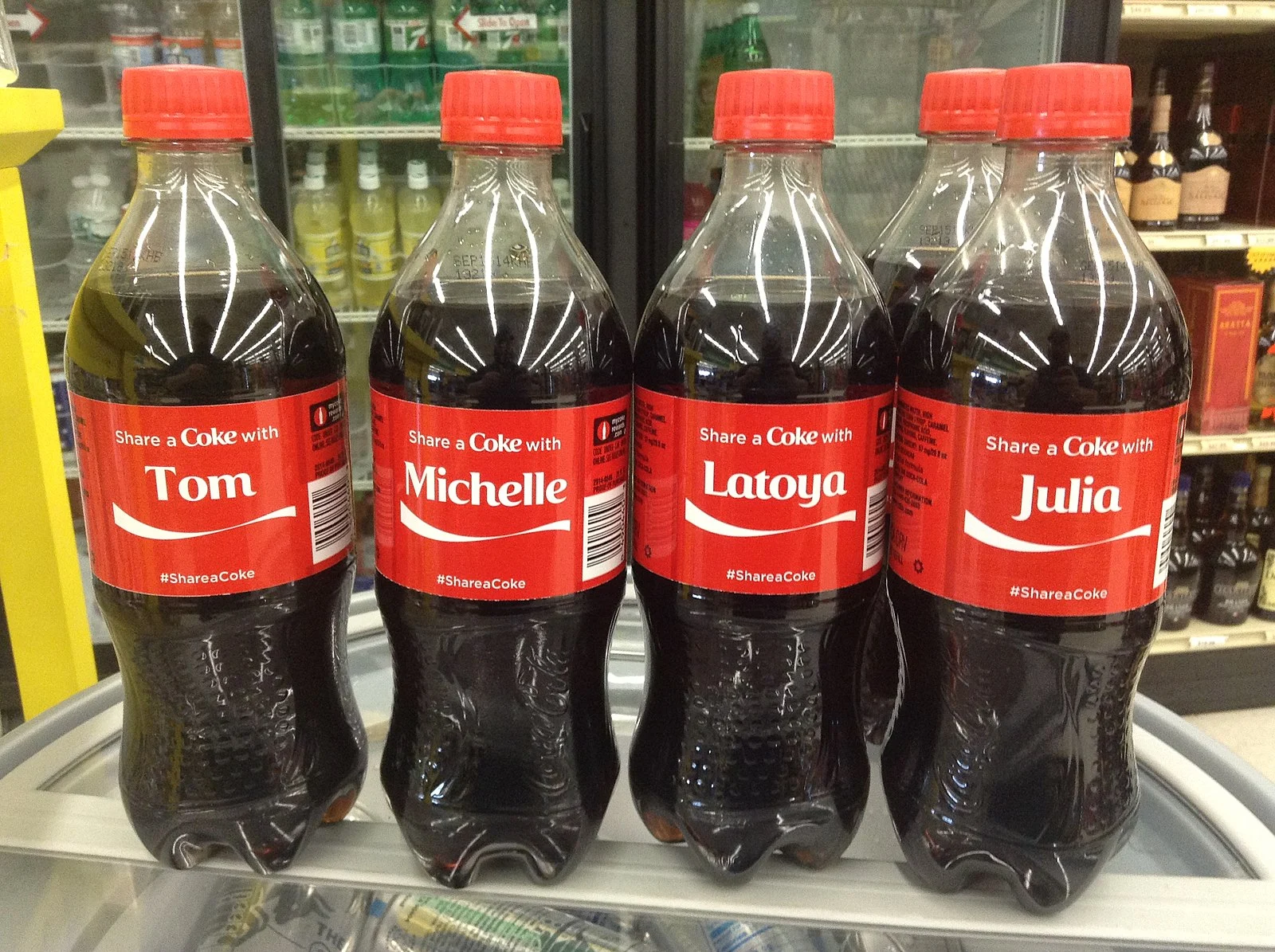 In retrospect, the same campaign wouldn't do so well in a conservative society like the one in China, and Coca-Cola knew this from the word go. That's because the Chinese regard first names as of great cultural significance and wouldn't be okay with them appearing on the front of a Coke bottle. As such, Coca-Cola has no option but to adapt its product localization campaign to fit the Asian market, and they did so in two fundamental ways:
First off, instead of printing actual names on bottles in China, they replaced them with titles like "close friend" or "classmate."
The brand was also sure to readjust the names they printed on bottles in other countries to fit the nomenclature of those areas. After all, while names like Oliver and Jack are popular in Australia, you can be sure they aren't in places like Thailand and Malaysia.
By making these seemingly small adjustments, Coca-Cola reached a far wider global audience and subsequently earned more profits.
2. Netflix
Another global brand with a successful localization strategy is Netflix. For every movie or series that Netflix produces, they have one eye firmly fixed on consumers' tastes and preferences.
Since no one will watch a movie in a language they do not understand, Netflix ensures that they translate subtitles based on the needs of their target demographics. Even the homepage and movie recommendations vary depending on a user's language preferences and location.
For example, in a keynote address at Content London in 2019, Erik Birdman, vice president of International Originals at Netflix reiterated the brand's commitment to put out content that's authentically local:
"In terms of programming strategy, where we are coming from has to feel true and authentic to the country it originates from. If we do a show in India, it has to feel loved in that market first for it to have any strategic value for us. Sacred Games [the Hindi-language thriller that debuted on the platform in July, 2019] feels sincere and real and there's something different our customers are experiencing."
3. Starbucks
Few brands can boast global acclaim like Starbucks. The brand operates in more than 80 countries and is, for many, the leading roaster and retailer of specialty coffee in the world.
Starbucks makes it a point to carry out extensive research on the history, culture, and locals' taste preferences before it decides to partner with coffee companies and participating stores available locally.
Its localization strategy is like no other. For one, they refine the coffee formulas and packaging to make the most sense for the local market. Then, using a mix of local ingredients and innovative store designs, they're able to adapt their branding to fully adapt to the culture of the location.
In Japan, local buildings have low roofs, and most of them have indirect references to Shintoism, which is the country's religion. In response to this, Starbucks hired local designers to create the right atmosphere in participating stores.
For instance, the Starbucks store in Fukuoka used 2,000 wood blocks that interlock to give a forest-like feel to the place and honor nature, in reference to the religion. By doing so, Starbucks was able to easily enter the local Japanese market.
Crafting an Outstanding Brand Localization Strategy: 4 Tips to Help Your Dominate the Overseas Market
Now that you know a bit (or a lot) about the top-performing brand localization strategies worldwide and have hopefully gotten some inspiration in the process, it's time to put your own strategy to action. These five tips will help you put your best foot forward:
1. Get to know your target audiences
You cannot produce an effective location strategy if you've got no hunch on the market you're about to dive into.
Marketing to new audiences without thinking ahead can backfire badly. So before anything, take time to get to know the countries you'll be doing business in.
One way to do this is to liaise with local partners. It's even better if you can have someone physically in that market to really understand the values, perceptions, and expectations of your new customers.
Beyond giving you localized, highly specific feedback, local partners can help you determine several must-knowns, including:
How people make purchases within that country
Whether your product is actually in demand or it's simply a wave that's bound to pass with time
Which brands are your main competition
The key cultural, religious, and language differences to pay close attention to
Remember, something that might be deemed insignificant or inoffensive in your home country might actually ruffle some feathers in your new market. So take in-country feedback very seriously.
2. Fuse the human element into translation and localization
Next, focus on the inclusion aspect.
That simply means ensuring your new customers aren't being excluded from an exceptional product experience due to the language barrier. To that effect, consider including the human element in how you work, connect, and communicate.
For most brands, using website translation solutions might make the most sense. For others, they'd rather go down a more traditional route. Whatever the case, sprinkling the "human" element into your existing content will ultimately help turn your potential customers from mere skeptics to trusted followers.
Human is to error, so it's totally okay if you make a few grammatical errors during the actual translation. After all, you're not a native and are only learning the ropes. But be careful not to come off as offensive or inconsiderate. In other words, don't just focus on the words—the host country's cultural norms, nuances, and expectations matter a great deal, too.
There's also the aspect of translating imagery. It's not just the words that need to be translated to better fit the new market. Your images need a shake-up too. You wouldn't show a sunny, sweat-dripping scene to depict the summer season in snowy, freezing Australia, would you? It's these types of thoughtful, detail-oriented efforts that win you favor in your new local markets and help you seem like a native from the get-go.
Keep a Pulse on Your Multilingual SEO
Once you've sorted the content optimization side of things, don't forget about multilingual SEO. There's no point in translating all this content and imagery if your brand isn't going to be found in your new target market.
These five key steps should help you optimize your website content for multiple languages:
Use dedicated URLs that include a language indicator
Apply hreflang tags
Stick to one language per page
Translate your metadata as well
Make sure your website loads fast


3. Use a Style Guide to Accurately Document Your Brand
Lastly, future-proof your localization strategy using an online style guide. Styles guides are incredibly important to brand documentation, so if you don't already have one, you are at a clear disadvantage.
Ideally, your style guide should include information about:
Your tone of voice and whether it's funny, formal, quirky, friendly, or something in between
Examples of competitors you like or dislike and why
The personality of your company and what it'd be like if it were thinking, breathing human
Specific elements and conventions of grammar to steer away from, such as contractions
Common company or industry terms, phrases, and acronyms, and what they mean in the native language in question
For translators, a detailed, multi-faceted, multi-national style guide acts as some sort of North Star—to make sure their work succinctly reflects your brand and its messaging.
While at it, consider documenting your website structure as well as any best practices with desktop versus mobile browsing.
Remember, it's the little things that matter, and in the context of brand localization, it's usually the littlest of details that carry the greatest significance. Don't let reluctance and the fear of the unknown get in the way of your localization efforts.
Your Global Brand Can't Wait—Let Marvia Help You with Local Marketing
Building a global brand means more than just reaching a wider audience. It means engaging customers with content in the language and context they relate to best. But building the right localization strategy is far from a cakewalk. That's where Marvia comes in.
It would be helpful to think of us as a localization company. After all, we're the #1 platform for all things local marketing. But above all else, we truly care about helping you make the most of your localization marketing budget. From the brand templates to the digital asset management workflows to the campaign distribution. We offer tools for localizing brands, distributing campaigns and managing digital assets so that you can distribute them locally with ease.
One of the great advantages of our platform is that you can manage all of your localization marketing campaigns and digital assets in one place. This makes it easy to track your progress and ensure that all of your local marketing efforts are coordinated effectively. And our brand templates make it easy to create localized versions of your branding materials, so you can reach your target audience with a consistent, professional look.
Want to know more? Find out how our tools help your brand with local marketing or check out our Local Marketing Automation platform in action.