A company's brand is its greatest asset. It is the business's face, personality, and overall identity, and the business would fade off into the crowd without it. So it's important to protect and manage a company's brand effectively.
While your brand is most closely associated with the company's logo and name, it actually encompasses a lot more. Your brand also includes all of your marketing materials, from your website to your brochures to your social media posts and beyond.
Ultimately, the brand depends on consistency in design and messaging, and this is where Brand Asset Management (BAM) comes into play. This article offers an in-depth insight into the importance of brand asset management and how it works.
What is Brand Asset Management?
A brand is the accumulation of multiple digital and physical assets, including images, colors, and fonts. These assets change and evolve with the brand over time, and it is important to ensure that the changes are consistent across all fronts. Brand Asset Management (BAM) involves storing, organizing, editing, and sharing brand assets.
Inconsistency in your brand's design and messaging can compromise its overall credibility. This can occur if everyone working on the brand doesn't know exactly which version of a particular brand asset to use. For example, a marketer may use an unapproved color on the brand's logo, making the whole marketing campaign seem like one elaborate scam for such a seemingly simple mistake.
Essentially, a BAM system consolidates all of your brand assets on one platform. Anyone authorized to access this platform can track and monitor changes to various brand assets. BAM platforms can also serve many other related functions to ensure consistency throughout the whole process.
What are Your Brand Assets?
Brand assets are digital representations of your brand, such as an image or audio recording. These assets are categorized into the following types:
Logos
Designs
Images
Colors
Fonts
Videos
Text blocks (such as boilerplates and bios)
Brand assets also include guidelines on how to use the brand assets, thus ensuring consistency in design and messaging. Everyone should refer to the guidelines when using the brand assets, so it is important to keep them clear and up to date.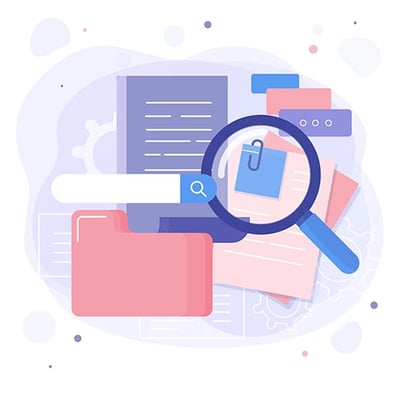 Brand Asset Management Systems
Brand Asset Management (BAM) software is a program designed to facilitate the storage, organization, editing, and sharing of brand assets.
BAM software features all the tools you need to create and manage brand assets, including:
Easily store and organize brand assets.
Quickly find and access brand assets.
Create, edit, and convert digital brand files.
Set media rights and permissions.
Facilitate collaboration across brand assets and different users.
Creating and sharing brand portals.
Measuring the impact of different brand assets.
Integrating and streamlining existing workflows.
Ultimately, your BAM system's functionalities will depend on its features. Some of the most important features to look for in any BAM software include:
Templating
Filtering
Auto-tagging
Resizing
Integrating with other platforms
Suggested searches
Access requests
Asset approvals
Cybersecurity
Ultimately, the best BAM software for your company is one whose features and functionalities can be easily customized to suit the business's unique needs. It is worth noting that most Brand Asset Management systems are usually a part of larger Digital Asset Management (DAM) systems.
BAM vs DAM
A brand asset management system (BAM) is a digital asset management system (DAM) with more functionalities. A DAM is a system for storing, organizing, and managing digital assets such as photos, videos, and documents. A BAM system is designed to do all that and more. It has extra features that make it easier to manage brand assets specifically.
Which system is right for your brand? While both systems can store brand logos, a BAM will have specialized tools for editing the logos while a DAM might not. In general, a BAM system will offer more brand-specific features and functionality than a DAM.
Some of the most common brand-specific features a BAM offers include:
The ability to streamline content approvals

The ability to localize with multi-language themes and styles

The ability to distribute campaigns across all channels

The possibility of brand templating

An approval process for brand assets

A marketing calendar to centralize all activities

The Benefits of Brand Asset Management Software
Efficient Brand Asset Management (BAM) software can save you a lot of work and offer dozens of benefits, including:
1. Staying Organized & Saving Time
Did you know that more than 50% of office workers spend more time looking for files than they do working on the files? You don't have to worry about losing any of your brand assets when using BAM software because it automatically files and organizes different versions of each asset. BAM software also saves time because you can find and share files instantly and do most of your work on one platform.
2. Reducing Redundancy & Asset Wastage
Many digital assets are developed only to be lost, misplaced, or rejected. This creates a lot of redundancy, especially when you have to develop the same asset several times. It also results in the wastage of time, money, and labor. More notably, it can obstruct the team's creativity and productivity. Fortunately, a BAM system stores and organizes every file, minimizing redundancy and wastage.
3. Asset ROI
As explained, it is easy to lose or damage digital assets without an efficient BAM system. This results not only in the loss of capital, but also the assets' potential ROI. A resourceful BAM system will also help you improve the quality of your digital assets, raising their value and intended impact.
4. Better Oversight
How many people are using your brand assets at any given time? It is important to monitor who is using the assets and whether they are using them as intended. BAM software improves your oversight over the assets by logging information about how, when, and where your digital assets are used.
5. Automating Tedious & Repetitive Tasks
It is common to work on one brand asset several times before getting it right. Most of the work is repetitive and tedious, and automating them would save you a lot of time, work, and money. BAM software comes equipped with tools to help you develop brand assets, including automation tools.
Conclusion
Brand asset management is an integral part of every business's operations. It involves many moving parts and can be confusing and overwhelming, but inconsistency and failure will cost your business in multiple ways. Fortunately, Brand Asset Management (BAM) software can help you organize and manage your brand.
Marvia's Brand Management Portal helps you manage brand guidelines, brand assets, and brand identity. With our templating system, you can quickly create brand assets that are consistent with your brand guidelines. And our marketing shop makes it easy to find and order brand-compliant marketing materials.
You can experience Marvia's BAM solution in action by signing up for a free demo. You can also get in touch to learn more about our BAM software and localization solutions.