As marketing leaders wrap up a very challenging 2021 and start to plan for next year, efficiency and the ability to rapidly adapt are high on the priority list. While the economic recovery hopefully keeps momentum, a more padded budget for the next year is far from certain. Even though pressures and demands on marketing teams have grown year over year, marketing budgets seem to go in the opposite direction. Gartner's Annual CMO Survey showed that 2021 marketing budgets have fallen to their lowest recorded level, dropping to 6,4% of company revenue in 2021 from 11% in 2020.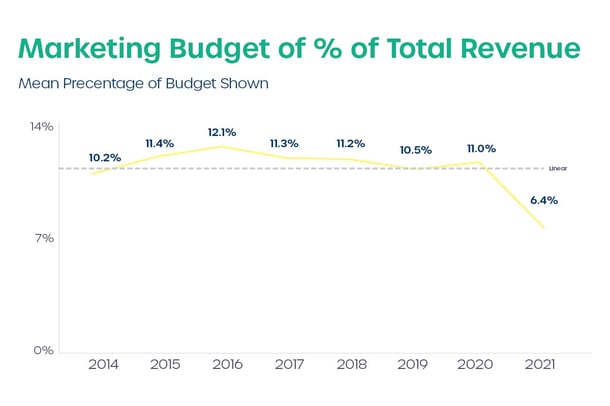 The global pandemic has influenced this, but nobody knows how long the pressure on marketing budgets will remain. This is a real problem considering the challenges marketers face:
Creating more engaging content across multiple channels
Staying compliant with regulations
Maintaining brand consistency and authority
Future-proofing processes against external disruptions
That's why marketers need solutions that will bring widespread benefits to their marketing efforts and maximize the return on investment. A distributed marketing platform can help you get the most out of your budget; here are 4 marketing challenges of 2022 and how a distributed marketing tool can make a big difference.
But first, a short recap on what distributed marketing is to refresh your memory.
What is distributed marketing?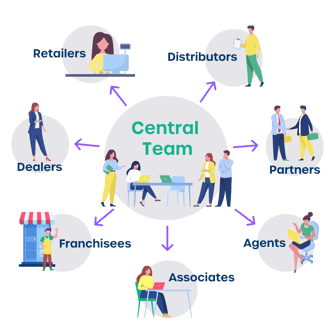 Distributed marketing is when organizations market their products or services from the central, corporate level to a network of local, distributed partners. These partners can be dealers, agents, retailers, distributors, resellers, branches, franchisees, and regional teams or locations. While it might sound like a niche model, 75% of global sales come from these indirect channels. Not so strange when you consider that distributed marketing allows brands to meet customers at a personal and local level which rallies engagement.
Chances are that your organization is using a distributed marketing model to at least some extent. So, how can we tackle the marketing challenges of 2022 with a distributed marketing platform?
1. The ever-growing need for content
One of the biggest overheads for marketing teams is content production, and it will remain that way in the coming years. With the number of channels ever-increasing, taking full advantage of these requires a great deal of time and resources.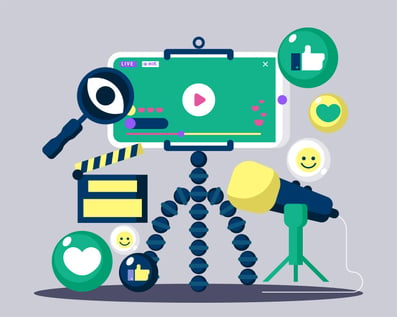 Short-form videos, podcasts, live streaming content, and stories will be especially popular in 2022. These types of content are even more time-intensive to create, putting an even bigger pressure on marketing teams' workload.
With budgets shrinking, it's hard to deliver the same level of output and quality. This can result in less or poor quality content, brilliant content ideas that never come off the shelf, a limited number of channels utilized, and other projects or activities that are put on hold due to reallocating staff and budget.
Worsening the problem is the reliance on agencies to help carry the content production load is declining. Gartner's survey shows that 29% of work previously performed by agencies has moved in-house in the past 12 months. In short, a situation that will definitely cause headaches and sleepless nights. Luckily, a distributed marketing platform can make a difference.
Ramp up content production
Although it may seem contradictory, a distributed marketing tool boosts content production efficiency while simultaneously bringing more of the work in-house. It does so by making marketing a team effort. Everyone in your organization can create high-quality, on-brand content for all channels without any design skills or experience. Ads, videos, social posts, POS, posters, outdoor advertising, brochures, business cards, you name it. How?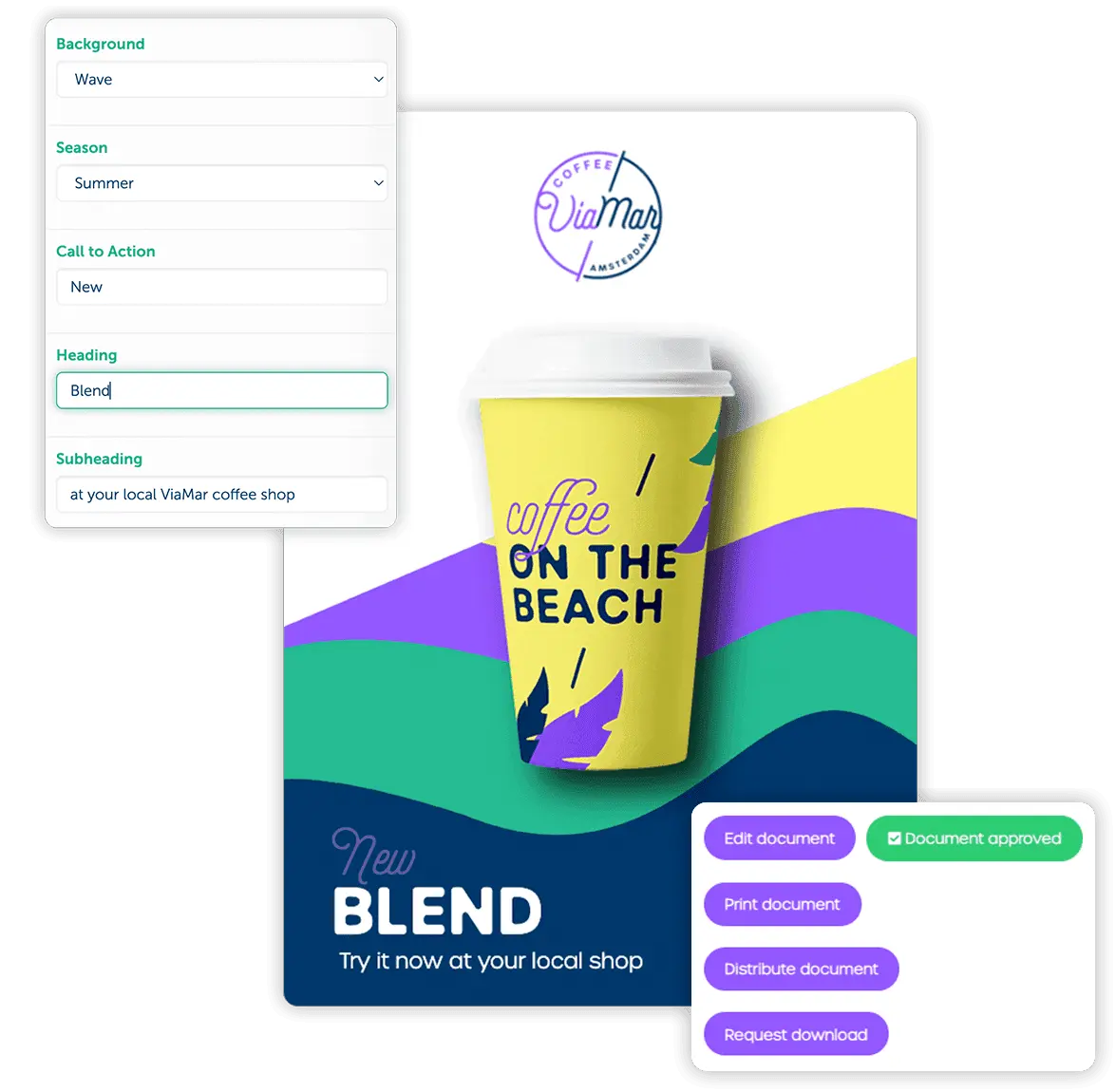 By using dynamic templates which can instantly be adapted to almost everything (markets, audiences, languages, size requirements, etc.). These templates can be as open or locked down as needed to avoid content that doesn't follow brand guidelines, no matter who created it. You can also choose to automate (parts) of the content creation process by auto-importing relevant data or imagery into individual or team templates, saving everybody a lot of precious time (and reducing the risk of errors). It's also possible to work with pre-programmed sections such as 'choose one of three headlines, designs or images".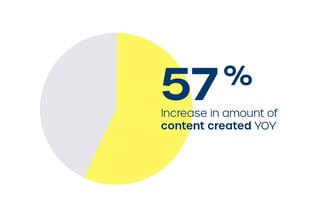 Templates shrink the time, effort, and cost involved in content production, making them very valuable when dealing with tight budgets. One of our Marvia users, a franchiser with over 300 stores, saved $156.000 and 1.700 hours a year on creating flyers alone and saw a 57% increase in content created YoY. All that time and budget can be invested in strategic projects rather than in routine production.
2. Maintaining a strong brand image
While advertising will remain an important pillar of your marketing strategy, it will continue to become more expensive as online advertising competition increases. Research also shows that trust in businesses is eroding, and most customers don't trust advertisements (65%) and sponsored social media ads (71%) anymore.
This anti-advertising movement is expected to gain more momentum in 2022. With third-party cookies also being put on the chopping block, the importance of branding will become more critical than ever. A strong brand has many benefits, such as higher customer loyalty, lower price sensitivity, and more word of mouth.
Maintaining a consistent brand across large organizations is a challenge, though. As an organization grows and becomes more geographically and structurally diverse, the brand often becomes fragmented. This can negatively impact both the revenue and the expense side of the equation. Brand erosion, reduced sales, production costs, time-to-market, and legal risks are just some examples.
Control your Brand
Distributed Marketing platforms can make a crucial difference in how much time and resources you need to devote to maintaining a strong brand. It does so by:
Providing a central, online repository (DAM) to house all your brand assets and documents, which can easily be shared with internal and external stakeholders.
Centralizing your brand guidelines in a digital, interactive handbook that always contains the most up-to-date information on your brand and brand strategy.
Keeping everyone in sync about all campaigns and activities with a flexible marketing calendar. No more long email threads or static pdfs or referring people to the right materials.
Streamlining marketing requests and approvals with straightforward and efficient workflow tools can provide that extra governance layer without the back and forth emails and version control confusion.

3. Staying compliant with regulations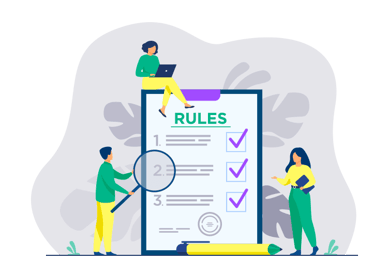 Rules and regulations aren't going away; as a matter of fact, compliance and security requirements are more rigorous than ever. Marketers working in highly controlled industries, such as financial services and healthcare, have to deal with additional protocols on how they can market to consumers. To make matters worse, regulations vary around the globe, making it even harder to keep tabs on local compliance for marketing teams.
Non-compliance isn't just bad publicity for your brand; it can also have a huge financial impact on your business. For instance, alcohol companies in Ireland can receive a fine of €250.000 when they advertise within 200 meters of a school, creche, or a local authority playground. Ensuring and double-checking your compliance and regulations hinders your ability to go to market fast.
Comprehensive Compliance
Distributed Marketing platforms are perfect for making sure all your partners comply with local regulations. It does so by:
Custom access permissions

: assign roles and permissions to restrict users, departments, affiliates, and locations to only access and utilize content that is approved for them.

Asset repository: ensure each person is using pre-approved photos, videos, documents, and more that are stored in a central repository with easy-to-find search functionalities and licensing information.
Pre-approved templates: let users create compliant content by using dynamic templates. Determine how open or locked down documents should be and automatically load specific variables to avoid mistakes.
Workflows: add approval workflows for an extra layer of governance on content created, asset requests, or product orders.


4. Increasing Partner Participation
Since more than 75% of the world's commerce is through indirect sales, managing and supporting your partners is essential for business success. But although it is crucial, it's not easy. The list of responsibilities is endless while time and resources are scarce. On top of that, only 15% of channel marketing efforts usually reach the end-user. That's a lot of wasted time and money. Budget cuts and limited personnel will even further complicate things in 2022.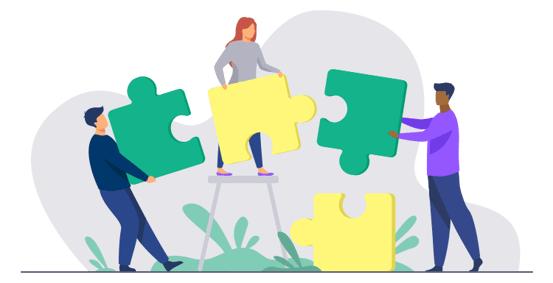 Forrester's research also found that only 20% of partners deliver 80% of all sales; the other 80% are not doing as good of a job as they could. So how do you get the other 80% to participate?
Activate your Partners
You want your partners to see you as a collaborating partner working with them to achieve joint success. By facilitating and activating them in their marketing efforts, brands will develop a closer relationship and achieve better results.
Distributed marketing platforms are built with partners in mind, giving them the tools and materials to succeed. It also unburdens HQ marketing teams from the issue of oversight or micromanaging local partners. Some features that increase participation and involvement are:
Shared Learning: let partners share best practices and related assets across departmental silos or different regions to ensure continuous improvement.
360˚ Campaign Distribution: a tool that takes the user through a step-by-step process, including all the appropriate assets, materials, and channels. Guarantee consistency while still providing options and flexibility for local customization.
Event Kits: many marketing activities are repeated over and over again. With kits, you have everything partners need to market uniformly in an easy way to achieve rapid, repeatable & consistent results.
Dashboarding: get rich insights on campaign participation and user activity and give attention to the partners that need it.
Overall, a distributed marketing platform translates into saved resources, less frustrated partners, increased sales, and better insights for the brand.


Take your brand further with Distributed Marketing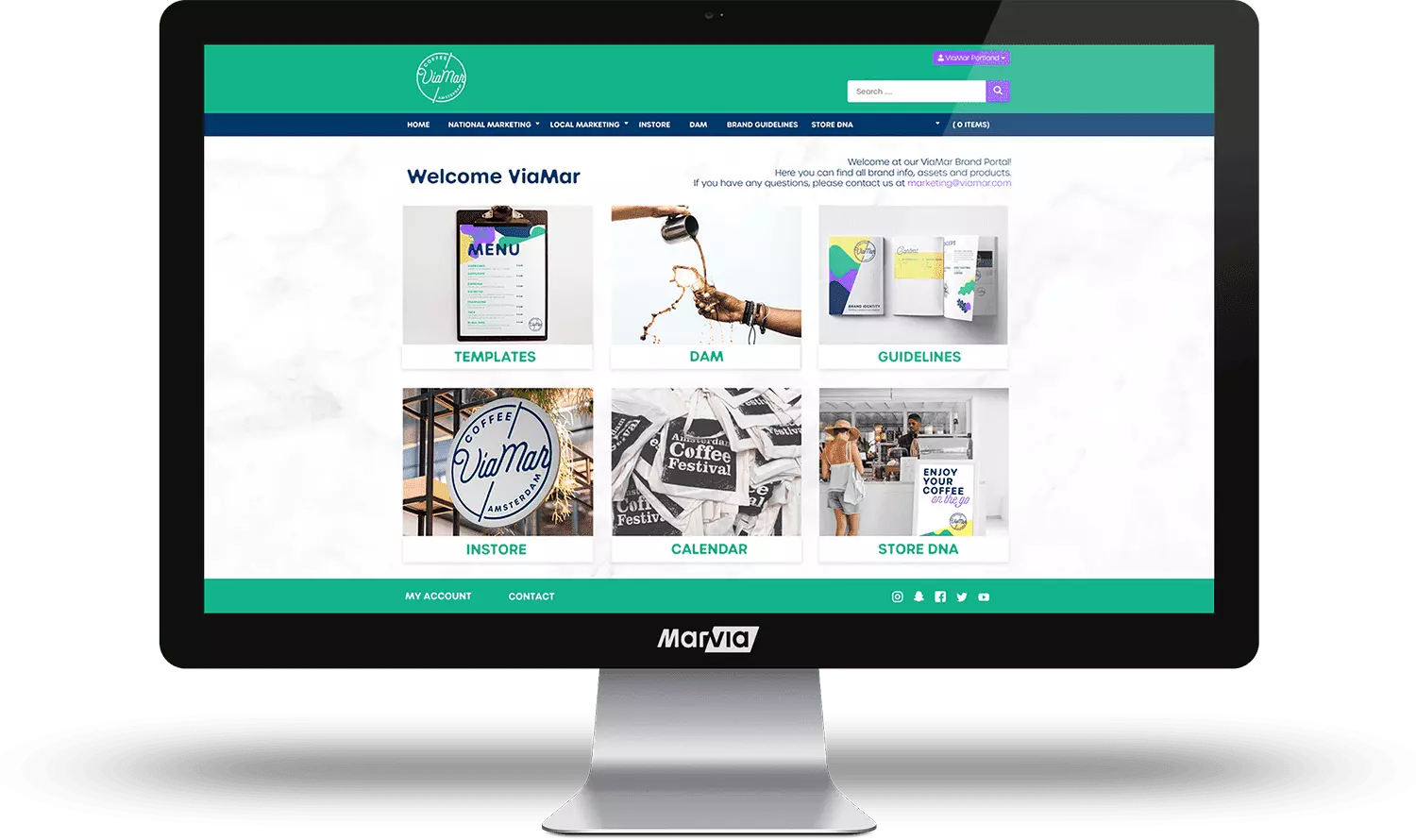 As we hopefully demonstrated, making a distributed marketing platform a priority for next year's budgets will significantly impact your brand and marketing department.
To discover the incredible potential that Marvia's platform offers and how it can enhance your distributed marketing efforts like never before, get in touch with one of our experts or book your free demo today.