When local marketing meets local search, it's typically defined as driving local customers to a business' website by putting content in front of the users on the go. Google and other local guides use local online marketing and local search techniques to provide users with location-relevant results for local services.
Local marketing is about the local customer, so it's important to know what you need to do in order to stand out from other local businesses and attract attention for potential customers to choose your business over others.
In this article, we'll cover the ins and outs of this marketing phenomenon. Most importantly, you'll learn how to focus your content locally to effectively win hearts, souls, and most importantly, wallets!
What is Local Online Marketing?
Put simply, local online marketing refers to a mix of digital marketing strategies that local businesses can use to engage with new and prospective customers within a targeted—often small—geographical radius.
You'd think that local online marketing is typically used by businesses that have a physical storefront—and yes, you're right. Hotels, restaurants, bars, medical offices, chiropractors, and the like lead the line in this regard.
Nonetheless, there's a caveat here. Local online marketing is inherently not the same as online marketing. While the former is primarily based on the internet, the latter is focused around in-person marketing strategies. Pound-for-pound, though, it's the former that can bring you the most bang for your buck.
As of 2018, "near me" mobile searches that contain a variant of "can I buy" or "to buy" had grown at a mind-blowing rate of 500%. Besides, 88% of searches for local businesses on a mobile device either call or visit the business within 24 hours.
See where we're getting with this? Online local marketing isn't just some overhyped buzzword; it's a money-making, crowd-pulling juggernaut.
In the subsequent sections, we'll take a closer look at strategies that can make your local online marketing campaign an instant success.
Local Search Optimization
Let's set the stage with a quick definition.
At its core, local search is the use of special search engines that allow users to find what they're looking for in geographical proximity to them. For example, when a user types a query such as "restaurants near me", these search engines (think: Google, Bing, and the like) submit a geographically constrained query against a database of local businesses.
According to Go Gulf, 46% of all Google searches are looking for local information. Meanwhile, the SEO Tribunal says that 97% of people learn more about a local company online than anywhere else. The bottom line? Most customers will search online to learn about the businesses in their area, from comparing prices to reading reviews. And this trend won't die away any time soon. If you fail to prepare for these customers, you're basically waving goodbye to a steady stream of local customers, and consequently, higher profit margins.
For you to improve your local SEO game, you'll have to nail down a few best-practices:
Claim your local listings on Google with a Business Profile
One in three customers will do a local search on a mobile device before they visit a business. Guess where these customers find the information they're so ardently looking for? Your Google Business Profile, of course!
To make the most of Google Business Profile, start by setting up an account. Simply visit google.com/business and verify ownership of your business. While at it, be sure to accurately fill out information regarding your business, including: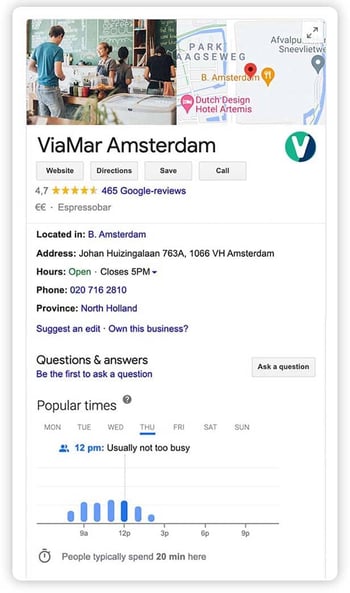 Business name
Address
Contact info
Product offerings
Response to customer reviews
Official business hours
Directions
Official business website
And so on
Beyond these essentials, you can optimize your Google Business listing as well. Optimization can take several formats and it's a necessity to continually invest time and effort in keeping your Business Profile relevant and up-to-date.
That means regularly checking all information is accurate, adding highly-engaging, well-optimized photos, taking advantage of any new features as they become available, and using Google Posts as much as possible. You'll also need to:
Use photos that paint your business in the best possible light

Ensure you're using relevant keywords in all the right places (including in your business name, if possible)

Select the correct business or category type

Use the Google Q&A feature as much as possible to add depth and credibility to your listing
If this sounds like too complex a task, you can always seek the help of a local online marketing agency near you.
Make sure your name, address, and phone number (NAP) are consistent across all platforms
This is pretty much a no-brainer. Anywhere you enter this information—such as on your web properties, social media profiles, and local listings—make sure that it's all the same. This will help Google link your listings together, understand your reach, and display accurate information to customers.
Take time to develop your About Us and Home Pages
These pages are pretty much the North Star to your offerings, so be sure to supply them with all the important local keywords. In addition to that, add quality content and your business address to beef up these pages' visibility even more.
Reviews and Ratings
In the context of local online marketing, reviews and ratings are tools of incredible value.
Simple question: Which business would you rather engage with—one that's rated 5-star overall and boasting some glowing reviews or one with a 2-star and devoid of any good reviews?
We're willing to bet our bottom dollar that'll you go with the first option.
Why? Because there's nothing that local customers trust more than online reviews. While reviews for your company in general are important, reviews directly tied to your local store carry much more local weight. In other words, bad ratings can seriously hurt your local online marketing efforts, so it's pretty much a no-brainer to get on the good side of local customers and garner as many positive reviews and stars as you possibly can. That means encouraging your local customers to leave reviews at every opportunity you get.
These metrics have consistently been proven to be an accurate measure of credibility (or lack thereof). In fact, according to Qualitrics, a whopping 93% of customers say that online reviews greatly influence their purchasing decisions. On the other hand, 91% of consumers between the ages of 18 and 34 trust online reviews just as much as personal recommendations.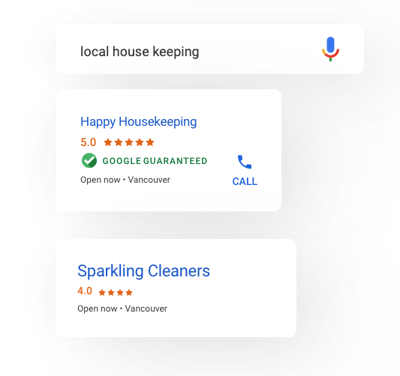 Positive reviews tell customers what you're doing right. That could be anything from
the quality of the product you sell to the customer service provided when customers call with a problem. In other words, a positive review puts you in the good graces of your local target audience and brings you one step close to winning a repeat customer.
Negative reviews, on the other hand, can badly hurt your company's reputation and turn away prospective customers. However, deleting bad reviews from your website can be detrimental to your local business as well. It's best to have a few (just a few!) bad reviews to make your business seem more legitimate and credible. After all, to err is human, and nobody likes a perfect person (and by extension, a perfect business).
To improve your online reviews and ratings, keep these simple tips at heart:
Thank positive reviewers and let them know how much their review means to your business

Set up social media accounts and stay active engaging with your customers. And when you get questions or concerns regarding your business, respond to them as promptly and exhaustively as you can.

Reach out to negative reviewers, express your deepest apologies for their bad experience, and promise a better experience next time out

Provide incentives to everyone who leaves a positive review on your website or social media accounts. This could be anything from offering free gifts to running a giveaway contest.

Give customers a good enough reason to review you. It may be something as simple as writing a personalized thank you note, but that gesture will go a long way in making your local customers feel all warm and fuzzy.




Focus Your Content Locally
There's a reason we talk about content as though it's royalty. You can have the best products and services, but if you can't present them, talk about them confidently or tell your audience how these things help them locally, you'll find your strategies landing you on page 2 of SERPs. And if we're being honest, you won't sell much from page 2.
The current evolution and sophistication of search engines means that the importance of high-quality content only continues to increase. Local entrepreneurs have to leverage opportunities by creating content of genuine interest and value to target audiences.
Here's how you can create content that deeply resonates with your local customers:
1. Conduct incisive keyword research
Keyword research can be challenging. But since you, as a local entrepreneur, regularly talk with your customers, you have a big advantage.
Ask them about their search behavior, patterns, and preferences. Better still, ask your favorite customers what they were searching for when they first visited your website. Or what they'd be searching for if they'd be looking for your type of business. That's valuable information. Use it to create a robust content strategy that alleviates your local customers' deepest pain points.
2. Focus on writing 'local' headlines
Your audience is searching for the bakery around the corner, that plumber nearby, or the carpenter that'll come to their house. They'll click on those results that indicate they're situated in that area. That's important for your local marketing online strategy.
Make sure the snippet of your web page that Google shows in the search results is clear about where your business is. That means optimizing the titles and meta descriptions of your posts and pages for local SEO. Use the recently launched Google SERP preview tool to visualize how your website will appear in the search results. Then do the needful.
3. Give your blog a proper revamp
No matter how many bells and whistles your blog has, if it's not talking to the local audience, it's of no use. Simple as that.
People want to know what makes your business unique; what sets it apart from the rest—not what you ate for breakfast on Tuesday! In other words, only write what you know could be of interest to your target group.
If you're a dentist, write about the most common problems concerning teeth. Similarly, if you're a carpenter, write about your projects and how happy they made your customers. And so on, and so forth. The drill here is simple: write beautiful, highly-targeted local content, and you could earn yourself a lot more than just a bevy of positive comments; you could earn yourself an army of faithful customers.
Want to Get Started With Local Online Marketing?
All said and done, we can all agree that local online marketing is a strategy of immense potential. All you have to do is narrow down on your audience, send them the right messages, and watch as your foot traffic grows several-fold. With limited scope, the effort is subsequently smaller, whereas the returns are bigger. It's up to you to put your best foot forward.
Are you thinking of investing in local business online marketing but don't know where to start? Or you're probably wondering how to get started with local online marketing solutions? Fret not—Marvia can help.
Marvia's all-in-one distributed marketing platform helps local businesses maximize productivity and brand consistency through centralization while offering decentralized partners the tools to capitalize on local market insights. Capitalize on local market knowledge, and make campaigns that are tailored to your local markets.
Getting excited already? Request a free demo and see our tools in full flow.