Effectively branding your business requires a plethora of high-quality digital assets. Every piece of content you leverage to promote your products or services is valuable and drenched in labor, love, and creative energy. So, what happens when those amazing assets get lost in an endless dungeon of folders? As your proverbial ocean of digital assets grows, your business needs to effectively manage these assets in a way that sparks productivity, creativity, and efficiency.
Unfortunately, it's easy to lose track of digital assets. Employees spend countless hours diving through webs of files, emails, Dropbox folders, and Slack messages to uncover that precious asset. In the meantime, your business is losing productivity, revenue, and time. So, how do you rally your massive digital ecosystem under one roof, and how can you eliminate the desperate search-and-find missions?
Simple. You use a Digital Asset Management (DAM) platform.
What is Digital Asset Management (DAM)?
Digital Asset Management (DAM) is a technology that enables you to store, organize, discover, retrieve, and share digital assets. These digital assets may include photos, videos, documents, presentations, content, and even audio files. Since digital assets carry significant value in today's digitally-soaked landscape, DAM acts as a central repository and hyper-secure platform to manage and organize this content effectively.
Picture this: instead of diving through a never-ending maze of folders, emails, texts, app channels, and text messages; your team members find assets in a matter of seconds using an intuitive platform. When someone needs that amazing brand image, they don't need to ask co-workers or spend hours searching. Instead, they can type it into a search box, preview it, recover it, and utilize it in a matter of seconds. That's the power of a DAM platform.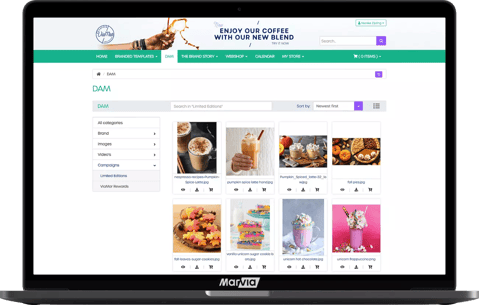 Benefits of Digital Asset Management
70% of marketers are actively investing in creative content. Your creatives are the glue that holds your campaigns together, the force that inspires customers to engage with your brand, and the power behind every savvy marketing strategy. Every digital asset in your organization has tangible value, and DAM systems enable and preserve the value of every one of those digital assets. We will quickly cover a few of the key benefits of DAM systems, but it's important to understand that DAM touches thousands of tangible and intangible value levers.
Security: As the threat landscape grows and hackers continue to viciously attack businesses and steal critical content, rallying your digital assets behind a single, secure source alleviates security concerns. Depending on the DAM you choose, cloud security and access privileges can halt threat actors and minimize threat verticals.
Productivity: Employees spend roughly

2.5 hours

each day simply searching for information. When a designer can't find a digital image or a marketer struggles to secure the right content, it minimizes their productivity — eating away at profits. DAM systems allow business users and stakeholders to quickly access the digital assets they need during their daily workflows.
Efficiency: Often, businesses leverage a convergence of outside help and internal talent to build out effective and impactful content. DAM systems streamline collaboration between business units and third parties. For example, outsourced photographers can quickly upload digital assets into the DAM, allowing internal marketers to quickly use that rich media on content campaigns.
Copyright: Threat actors steal digital assets everyday, and the damages from these thefts can swiftly put small and large companies

out-of-business

. When your images, videos, and documents are used without your express permission, it minimizes the value of your campaigns and pulls attention and value away from your creatives. Industry-leading DAM platforms come with content control capabilities, such as automated watermarking, publishing rights, and content dating.
Value creation: DAM platforms give you a crystal-clear picture of your digital asset ecosystem. Not only does this prevent old assets from slowly deteriorating, but it helps you reuse and repurpose your content — increasing the scale and value of your creatives.
In addition to everything listed above, DAM platforms simply make your life easier. Often, we forget about intangibles like ease-of-use. But they have a very real impact on your organization. For example, did you know 85% of employees are unhappy? And why wouldn't they be? The average employee spends 90% of their time on mundane, boring, and repetitive tasks — not to mention the 25% of their day they spend scouring for information. The act of storing, organizing, discovering, and leveraging digital assets shouldn't be hard work. It should be seamless, pain-free, and easy.
Who Should Use A Digital Asset Management System?
The answer to this question is simple: everyone. From retail businesses to food and beverage brands, every company with digital assets can find value in a DAM system. The sheer scale of digital content in today's business landscape is staggering. Every new asset created by your organization is drenched in value. To effectively run campaigns, create amazing videos, and generate branding resources, you need those assets organized, searchable, and stored consistently. Otherwise, employees waste time looking for assets that may not even exist anymore.
It's not hard to justify the use of a DAM system. In fact, it's nearly impossible to find a reason not to use one. It makes your life easier. It's that simple.
What Can A DAM Do For You?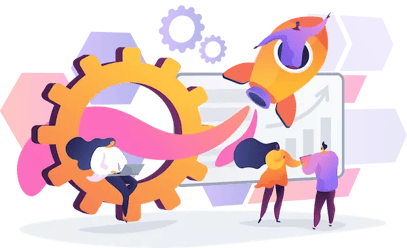 Do you want to create hyper-effective marketing campaigns using the best available creatives? Are you tired of wasting productivity and liquidity searching for information? Does your business want to seamlessly connect users to the digital assets they need most? DAM systems are the salve to your woes. It's simple enough to say that DAM systems will improve your asset workflows. But the real value of DAM goes far deeper. It can completely transform the way you approach marketing, sales, and business strategy. DAM provides a home for every digital asset, and it provides every business user with an easy-to-read map of the town.
How Select the Right DAM System
Choosing the right DAM system isn't always easy. On the surface, questions relating to cloud capabilities, speed, and UI are all important. But the truth is: many DAM systems have user-friendly UIs and robust cloud architecture. After all, the availability of hyper-scalable cloud platforms like AWS, Azure, and Google even the playing field. Chances are, your DAM system uses a well-known cloud provider, offers scalability, and has a modern UI. If not, you should obviously choose a different platform. But we won't discuss those more obvious requirements. Instead, let's focus on capabilities.
In general, you should be able to answer yes to the following questions:
Does your system make it easy to find digital assets? Smart search is incredibly important for DAM systems. You should be able to quickly find digital assets based on metadata like size, date, format, etc. If your DAM doesn't make searching easy, it's not providing you with real value.

Does the system have user controls? Cybersecurity is front-of-mind for businesses in today's threat landscape. Hackers attack every

39 seconds

, and a single breach can cost you

millions of dollars

in damages. Here's the kicker:

30%

of data breaches involve internal actors. Only the right people should be able to view content at the right time. Make sure your DAM has robust user controls and privileges.
Can you preview your content? This is actually a major concern. File names and dates don't always paint a full picture. To find the right asset, you need to see what it looks like. Unfortunately, many DAM systems don't provide you with a preview feature. So, your employees have to painstakingly open each individual asset (in its correct program) to find the right content. Suddenly, employees are wasting time looking for information again. Previewing is a bigger deal than it seems, especially if you deal with a variety of content types (e.g., videos, audio, documents, etc.)

Can you effectively share content? With remote work evolving into a de facto part of work culture, sharing via links and channels is a crucial component of the modern workflow. You need your DAM to support quick sharing for expedited workflows.
Are you capable of protecting and controlling your precious digital assets? Cybercrime is constantly growing. Malware and breaches get all the attention, but asset theft is another huge issue. Your DAM should both protect your content and enable its protection across mediums. For example, Marvia allows you to add watermarks, expiration dates, and publication rights to each digital asset.
Do you need to log-in to upload? Content comes from a variety of sources, and not all of those sources exist in your organization. For example, outsourced photographers and copywriters create amazing assets for your company. Should they really have to send those assets to an employee via email? It doesn't make sense. Emails get lost, and employees don't need to transform into upload robots. Choose a solution that allows uploading via secure links without a log-in. This way, you don't have to share credentials with third-party content creators, but you can also have them upload content as a natural part of their workflows.
When Is The Right Time to Invest in Digital Asset Management?
Today! Every business stands to gain from a DAM system. Even if you're a massive enterprise with a robust cloud architecture, DAM systems give you a competitive edge. In fact, large companies often have the messiest digital asset ecosystem. Between cloud buckets, data lakes, SaaS servers, emails, app channels, Dropbox folders, and personal computers, larger enterprises often have a smorgasbord of content scattered across their organization. Converging all of these assets into a single solution saves you time, money, and headaches.
For small businesses that have yet to embark on a branding journey, digital asset management systems may seem like a wasted investment. But they're not. DAM platforms scale with your business. The sooner you use them, the more value you gain. In fact, small businesses that onboard DAM systems early in their branding journey stand to gain a significant advantage over their competitors. Not only do DAM systems expedite your creative workflows, but they keep your early-stage assets preserved for later use — helping you create brand consistency.
Are You Looking to Manage Your Digital Assets?
Your brand's assets are critical drivers of growth. Don't let them fall to the wayside. We can help. Marvia's industry-leading DAM platform is used by over 80.000 users to secure and organize their precious assets. And we're ready to help you manage yours. Ready to take the next step? Contact us.


---
Note: This article was originally posted in April, 2018 and has been updated to include additional information and tips.