Brand templates are assets that enable your organization to create on-brand content without the risk of off-brand messaging or visuals. Basically, brand templates will be super valuable for any business that is a franchise, has multiple locations, and distributes through channel partners.
These brand templates ensure that all parties create content that reflects your brand without relying on or overburdening the creative and brand team at the organization's HQ. Since brand templates create brand consistency for marketing collateral across channels, employees or organizations can use brand elements to build trust with your brand's audience.
Branded templates are a must-have for your company if you want to simplify and unite messaging across your organization.
Brand Templates
These templates help users create marketing and campaign assets that are on-brand. You can have marketing templates for different platforms such as social media or websites and different uses such as digital campaigns and print advertising.
One way to create brand templates is to use brand style guides as a foundation. A brand style guide is a document that outlines the specific fonts, colors, and imagery you want used in your branding. It also establishes the rules for how to use them, such as which fonts are for headlines and which are for body copy.
Not only do brand guides provide a foundation for all your branding elements, but they also help enforce brand consistency across different media. You can also use brand style guides as a way to communicate your brand's personality to employees and partners.
Creating a Brand Template System
Before we move into creating one, what exactly is a brand template system?
A brand template system is more of a workflow that enables you to create, customize and distribute brand templates to various partners, channels, and platforms. In essence, a brand template system consists of template collections created by the brand team or creative team within an organization.
These templates can range from marketing campaign templates, social media posts templates, website banners, and out-of-home media assets. With a branded template system in place, your teams and partners can easily access a template of their choice and quickly personalize it for specific use. The system also directs the users on how and where to use the templates.
Now, let's look at how you can create a brand template system.
1. Know the User
Knowing the person who will be using the brand templates is essential. After all, this will be the guiding light towards the type of templates you should be creating.
For instance, if you are a large organization with multiple branches, the users will be the marketing, sales, and UX/UI designers in all the different locations. If you're a franchise, the users will be the local franchise owners and their marketing teams. On the other hand, if you rely on channel partners for distribution, your users will be dealers, distributors, and so on.
With your users pinned down, you'll have a sense of the type of template to create and the level of customization to allow.
2. Create your Templates
If you have defined your users, creating templates will be pretty straightforward. First, you'll need to understand how these users utilize the template. Will the branded templates be used for digital marketing campaigns, print advertising, or out-of-home advertising?
Insights on this information allow you to determine template designs and who needs access to what.
3. Design the Workflow
This is the most important part since you want to ensure that all users have access to what they need. For this step, you will need to create a simple workflow for designated users to access, customize, or create templates for approval.
You'll also need to set up access and control systems that allow users to access only the templates they require. Finally, create a documentation overview that helps users understand what template to use, where to use it, and how.
Once the brand template is set, you should start enjoying autonomy, quicker marketing assets creation, and more efficiency.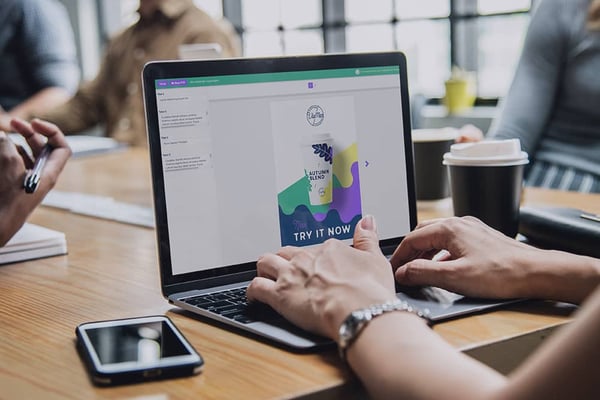 The Benefits of a Brand Template System
We've touched on a few benefits of a brand template system in the section above, but let's dive deeper into how this system impacts your bottom line.
1. Better Trust by Your Customers and Target Market
A brand template is one of the easiest ways to ensure that every party maintains brand consistency. With brand templates, you are assured that the messaging, visuals, typography, colors, and even tone reflect what your brand is all about.
This type of consistency is what customers yearn for.
Here's another truth: It takes 5-7 interactions for customers to remember your brand. If you're not consistent with your brand, it will take longer for customers to recognize or even remember that you exist.
Brand templates are the sure way to ensure that customers get a consistent picture of your brand's identity. Consistency helps keep things familiar for customers, leading to more trust, and if more trust, better interaction with your business, which influences your sales and, ultimately, your revenue.
In fact, 67% of customers cite trust as a significant factor influencing their purchasing decisions. If you are not building trust through brand consistency, you're allowing confusion and loss of credibility to seep into your brand.
2. Push Campaigns Out on Time
What happens when marketing assets are readily available and customizable?
Campaigns and marketing activities also happen faster and on time. Branded templates make it super easy to create marketing assets in conjunction with local outlets, partners, or franchisees.
You can simply create an overarching template for either digital use or print campaigns and leave the customization to local marketers to make the personalizations. Since brand-key elements are locked, there's no risk of brand dilution in your campaign assets.
And, since the templates are readily available, marketers won't have to waste time looking for ideal images, fonts, or other assets. This is especially crucial when you discover that knowledge workers— marketers in this case—can spend up to 30% of their workday looking for information.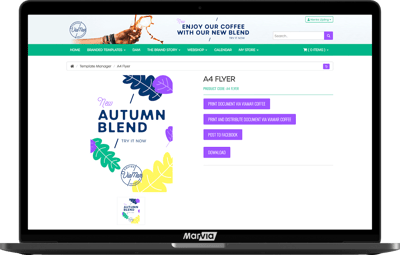 The local marketing teams can now create campaigns on the fly while having the ability to personalize the templates to their region.
In the end, you have better and more consistent campaigns pushed out in time and zero delays caused by back and forths or ineffective approval processes.
3. Saves You the Cost of Creating
Imagine a single template utilized by multiple company locations, franchises, or partners. You don't have to hire expensive creative teams for every campaign, and your HQ brand team can focus on optimizing your brand strategy instead of dealing with marketing assets demands from every user.
When you have ready-made templates for use, your focus will be on strategic branding and value-adding tasks instead of tactical and reactive brand assets creation. This spells more efficiency and productivity for your teams and, ultimately, better performance for both teams and the brand.
Finally, since you have a cap on your branding, you don't have to worry about putting out fires. Inconsistent branding is primarily embarrassing, but sometimes, it can spill over and cause financial losses as you try to regain your customer's trust and rebuild your reputation.
Plus, a 2019 study by Lucidpress show that brand consistency can increase your revenue by 33%
Branded templates minimize these risks because you already have in place an autonomous system that pre-approves every asset that goes out.
4. Enables Local Partners to Create Local Content
With the help of branded templates, local partners can create content themselves and add a local message so the content is much more relevant for their local audience. As mentioned before, brand inconsistency can lead to lost trust and credibility. On the other hand, localized content created by local partners helps foster a sense of community and strengthened relationships with customers.
In order to take advantage of this strategy, you need to ensure that all your templates are localized for different regions. This will give your local partners the tools they need to create content that is relevant and engaging for their audience. You can also give them guidelines on what type of tone and messaging you want to be portrayed in each region.

Leverage Brand Templates for Success
Brand templates will have your organization operating like a well-oiled machine where brand consistency is concerned. Your teams and partners will appreciate the efficiency of instant brand assets that simplify their work and make on-brand campaigns possible.
On the other hand, your brand team can focus on optimizing your brand instead of dealing with never-ending diverse requests for brand assets.
But to make brand templates work, you need a system that's cognizant of your particular needs. Marvia can help with that.
Our brand template system allows your brand team to create templates for any use case, platform, and channel. It comes with a built-in visual editor to quickly create templates and lock element capabilities to lock in logos, colors, or designs that are key to your brand.
On top of this, Marvia's brand template system comes with an easy-to-setup approval workflow, so each template that goes out is brand consistent. Finally, the brand templates have localization capabilities for multi-language styles and themes to fit the needs of your decentralized teams.
You can also connect the brand templates to your social media platforms for easy publishing or integrate with vendors for your print needs and out-of-home advertising.
Book a free Demo to see how branded templates make keeping tabs on brand consistency so much easier.