What makes a successful marketing campaign?
You could say some out-of-the-box creative content or a campaign taking advantage of a hot new trend your audience relates to. However, one significant aspect that makes a campaign successful is the type of marketing collateral you use.
Some forms of marketing collateral are suited for the awareness phase in the buyer's journey. Other forms are better used in the consideration or decision phase.
For example, while whitepapers may work well in a B2B setting, consumers looking for roasted coffee beans will not care much about a roasted coffee beans white paper. They may view your messaging as stuffy and unrelatable. But the same roasted coffee beans whitepaper presented in the form of a quick blog or fun video would do the trick of getting coffee lovers on board.
What is Marketing Collateral?
Marketing collateral is any material or asset used to promote a product, service, or brand. Some forms of marketing collateral are direct with a hard sell tone, while others take a nuanced approach to communicating with customers.
When used properly, marketing collateral can establish legitimacy, show expertise, and build trust with customers. The end goal of most marketing collateral is to take a customer from one level to the next in the buyer's journey.
Before creating marketing collateral, you need to think about the distribution channel. For instance, if your distribution channel is social media, a video or infographic would be great. A full-blown 1000-word thought leadership post would do better on your website's blog.
The goal is to achieve perfect symmetry of the campaign content, audience needs, and distribution channel.
10 Types of Marketing Collateral
Here's a breakdown of the most popular marketing collateral and where and when to use each. We've also included some handy examples of how other brands use different marketing materials.
General Marketing collateral
General marketing collateral includes any marketing materials in print and out-of-home advertising. However, some examples, such as brochures, have been adapted to fit the digital context.
Here are 3 main examples of general marketing collateral:
1. Brochures— Quick, Bite-Sized Marketing That Makes a Great Introduction
Brochures are simple marketing materials that help build awareness of your products and brand. Over time, brochures have seeped into digital marketing, but they are still a staple in print marketing.
A brochure is great for the initial stages when customers are still seeking awareness. However, they can still be beneficial when customers are considering their alternatives.
2. Out of Home Media— Broadcasted Brand Awareness
Billboards, shelf signage, and posters in public transport all fall under out-of-home media. Out-of-home media is commonly used in spreading awareness about a brand or new product. For instance, this artistic billboard by The Guardian promotes the magazine's weekly newsletter.
Nowadays, a popular trend is to use digital out-of-home advertising instead of plain-old billboards. One example is Google's 2019 'Make the Most of Summer' campaign promoting Google's search functionality. The company had DOOH media signboards all over cities with different real-time searches users were making about summer activities.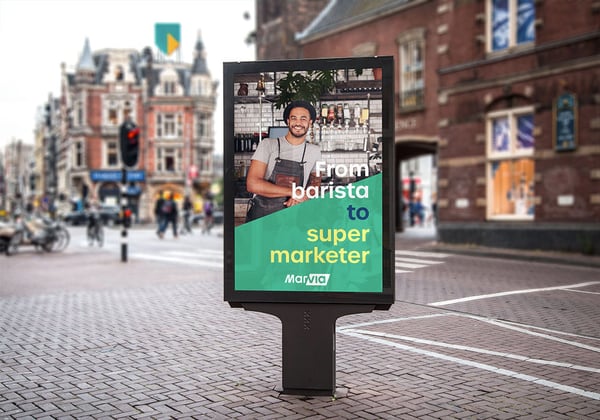 3. Specialty Items— Free and Long-Term Brand Awareness
Branded swag products are another marketing collateral to consider for your next campaign. These promotional products are one of the most cost-effective ways to build awareness, considering customers retain promo products for up to one year. (That's free brand exposure for 365 days!)
Pens, water bottles, and t-shirts are the most common promotional freebies you can use as marketing collateral in your campaigns. You can also opt to go all out as Google did.
In 2017 when releasing Google Home Mini, Google set up donut pop-shops where people could ask questions on the Home Mini. The participation reward was a mystery box with either a Home Mini or donuts. This campaign generated lots of awareness, especially when they brought influencers on board to promote the campaign on social media.
Digital Marketing Collateral
These are media materials deployed across the internet on social media platforms, websites, and forums. Below are some examples to consider for your next campaign.
3. Ebooks— Educate on an In-Depth Topic
Ebooks are best used to educate customers about a specific process, technology, or product. They are like blogs, but in the long form and taking a book format.
You can use Ebooks at any stage of the buyer's journey. For example, this ebook by HackerOne is a Guide to Bug Bounty Programs and will work great for buyers in the awareness stage.
Freshworks' ebook on customer experience, on the other hand, would be a good resource for prospects in the consideration phase.
Typically, most marketers use ebooks as a lead magnet to get more prospects and leads in their funnel. Ebooks are always a great option if your campaign goal is to nurture customers.
4. Blog posts— Reach a Wider Audience
Blog posts are the most popular marketing collateral. This popularity is driven by the fact that most customers (70%) would prefer to learn about a brand through organic content rather than advertising.
Like ebooks, you can use blogs at any stage in the buyer's journey. You'll find most blogs in top-of-the-funnel campaigns (TOFU); when buyers are in the awareness stage. You can also use ebooks as an extension of any other marketing collateral in a campaign. For instance, if you use whitepapers for a specific campaign, you can boost exposure by summarizing the whitepaper on your blog.
5. Videos— Great for Product Presentation
Videos are quickly taking root as popular marketing collateral for campaigns. Thanks to their visual nature, they are the second most preferred resource for consumers after blog posts.
Videos are always a good option for spreading brand awareness. You can also use videos to explain the technicalities of a product or a brand cause. The most important thing is to make videos relatable to your target customers and the message unique.
This video series by Land Rover is one example of the type of ads customers prefer nowadays. (Subtle advertising which doesn't read like an advert.) The series follows a couple traveling with their baby for the first time in a Land Rover. In the heartfelt ad, customers and potential customers see the Land Rover as an excellent way to experience the outdoors with family. This video helps increase brand awareness for Land Rover without feeling like an ad.
Another example is this explainer video by Hubspot. It's straightforward and helps prospects understand Hubspot's product offering quickly and easily.
6. Visuals— To Add Color and Personality to Your Marketing
Visuals include everything from your logo to the images you use in blog posts, whitepapers, and other writeups. Logos for instance, are essential for branding your business. Your logo is also one of the things your customers rely on to recognize your business.
On the other hand, images are great for showcasing products and adding color to your other marketing collateral. When using graphics and logos, the goal is to ensure your graphics and logos align with your brand style. You can keep all your images and logos in line with your brand by using a digital brand style guide to communicate brand rules and guidelines.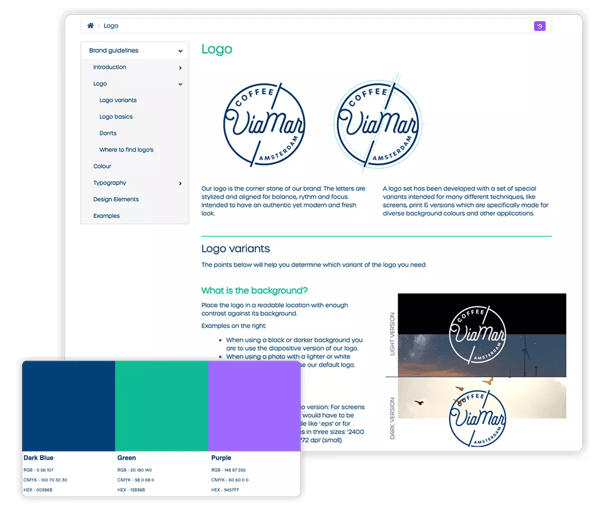 7. Whitepapers— Showcase your Expertise and Legitimacy
Whitepapers are the go-to marketing collateral if you need to show legitimacy and expertise in a campaign. They work well when buyers are in the consideration stage. At this point, the buyer is aware enough to move into the technical details.
Whitepapers are also effective in the decision stage since they increase prospects' confidence in a brand. Some whitepapers, such as the first Bitcoin whitepaper, have formed the basis and fundamentals for entire industries like cryptocurrency.
Other whitepapers such as this paper by BDO about privacy and GDPR help customers delve deeper into emerging trends. Since the topic aligns well with BDO's cybersecurity services, this whitepaper can be a consistent source of leads.
8. Infographics— Quick Information for Customers and Prospects
It's easy to see why 67% of marketers term infographics as a marketing staple in campaigns. They are easy to create and can communicate so much information that's easy for customers to consume. You can use infographics to display valuable stats, process steps, or product functionality.
Like blog posts, infographics can be accompanying marketing collateral for other marketing materials. For example, it's common to include an infographic summarizing a blog post or a research report from a particular campaign.
9. Case studies— Let Your Customers' Success Do the Marketing
Case studies are the perfect way to onboard prospects into the consideration stage. When customers are in this stage, they know the problem and consider different options available.
By using case studies in your campaign, you affirm to customers that you're the best option since you helped other customers find the solution to a challenge similar to theirs. Case studies offer your organization three benefits:
Increased brand awareness

Quick and effective communication of your USP

Improved customer trust by proving the legitimacy
Here's one of Marvia's case studies on Fit20. It's quick and displays a scannable story of the challenge, the goal, and how Marvia helped Fit20 solve its challenge.
When using case studies as marketing collateral, be authentic, and make sure prospects relate to the mentioned challenge. Finally, use statistics and show actionable change once a customer adopts your solution.
10. Newsletter and Automated Marketing Emails— be top of mind in your customer's lives
Every campaign you undertake will most likely need a newsletter and automated emails to spread awareness. The good thing with emails is that they are valuable to customers in every buyer stage.
For example, in any campaign, you need to have a welcome email series where you take prospects through your product and services. Then follows educational campaigns to help customers become acquainted with your product. And finally, you have advanced learning campaigns to help customers use your product without hiccups.
Need Help With Your Marketing Collateral?
You can quickly tell there's no shortage of marketing collateral to use in your campaigns. The challenge is where and when to use each marketing collateral. But you can easily solve this by understanding your audience's stage in the buyer's journey.
However, maintaining brand consistency in all the marketing collateral you incorporate in campaigns is an even bigger challenge. Ensuring all marketing materials align with your brand style is difficult, especially when relying on manual means.
If you're looking for an easy way to ensure brand consistency in all your marketing collateral, Marvia can help. Our platform keeps your branding consistent in all your marketing materials, making it easy for you to create and deploy successful campaigns.
Stay consistent with:
.You get total control over your brand where each marketing media going out is aligned to your company's brand message in terms of the visuals, messaging, and style. In addition, your team gets quick and easy access to marketing materials ensuring campaigns happen on time and within budget.
Ready to deploy campaigns with on-brand marketing collateral?
Book a free demo today to regain control of brand consistency in your marketing materials.