In these challenging times of reduced budgets, shrinking team sizes, remote work, and rapidly shifting circumstances both economically, technologically, and socially we are all looking for ways to decrease operational marketing costs while increasing marketing output and effectiveness at the same time.
Look no further. There is a way to reduce marketing cost, save your team hours of repetitive production work, and improve the strength of your brand at the same time. It is called Marvia's Local Marketing Automation platform.
What is Local Marketing Automation?
Local marketing automation (LMA) is a tool that helps align local and national marketers through the centralization of brand marketing messages, campaigns, product information, and location data. An LMA platform enables local marketers and brands to:
Create print and digital materials for all channels, typically by using dynamic brand templates
Align localized messages with national branding
Organize and store brand content like images, videos, and brand assets
Most commonly, local marketing automation tools are designed for distributed brands with local partners such as franchisees, resellers, dealers, or agents. However, LMA is also beneficial for corporations with multiple locations or stakeholders like PostNL.
Here are 4 ways our customers save money by automating repetitive marketing tasks with Marvia.
1. Enhance marketing production efficiency
Inefficiencies are costing many organizations 20-30% of their annual revenue. Try to imagine how much money is being wasted every year instead of being funneled into customer acquisition or keeping employees on board.
Above all else, the goal of local marketing automation is to eliminate the wasted motion associated with creating, cultivating, and consuming brand and marketing assets. Reducing the marketing production workload from hours to just minutes while ensuring the new assets are brand-compliant.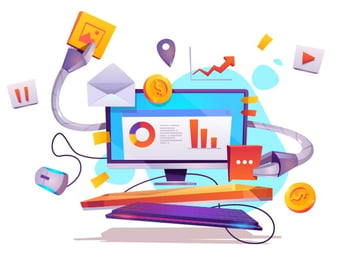 One of our customers, a fast-growing food franchise, was annually making thousands of locally adapted marketing materials for over 300 stores. Production costs were increasing, and there was less and less time for brand-building activities.
The company now saves more than 3.000 hours a year in reduced production time by using Marvia. More than 350 employees are empowered to self-create on-brand collateral, freeing up its central marketing team to do important strategic work.
In essence, local marketing automation is a process improvement that allows you to produce more while putting in less, resulting in a much higher return on investment.
2. Capitalize on local market insights
One of the most impressive aspects of local marketing automation software is its capacity to merge your local users' customer knowledge with your brand marketing collateral. Local users are on the frontlines of your business. They understand your local customers' desires better than anyone else. When you can transfer this knowledge into campaigns, it results in more sales and better customer relationships.
Through smart templates, we enable every team member to create marketing material that embodies your brand identity, with no difficulties or deviations. Local marketing automation software closes the window for error and allows national or global teams to become more self-sufficient in engaging their audience within brand guidelines.
By adding approval workflows across your templates you can add an extra layer of governance to ensure the right people have approved collateral before they are released.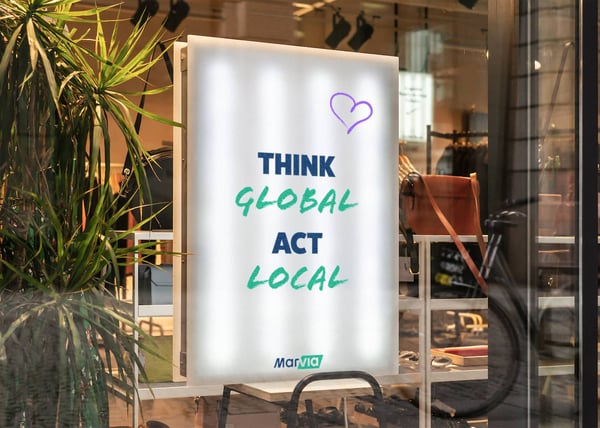 3. Reduce time to market
Without a central local marketing automation platform, the content creation process is incredibly time-consuming. Your teams will be spending a lot of time collaborating and adjusting content with both internal and external parties before it can go live. This means you miss the opportunity to engage your customers at the right time, reducing the effectiveness of your local marketing, and wasting time and money.
With Marvia, you give your teams and users the ability to create on-brand marketing collateral which significantly cuts down the time it takes to get your message in front of your target audience. In this digital age, being able to get content to market quickly and regularly in a cost-effective way is crucial to beat the competition.
You can also cut down on time to market by integrating your existing marketing technology stack. We can pull in data to automatically and dynamically generate materials and push these straight into the market, for instance, to your social media channels.
4. Rapidly respond to change
With so much going on in the world and business conditions changing faster than ever, coping with change is high on a marketer's weekly to-do list. Does your marketing team have the right tools to adapt messaging to these rapidly changing conditions?

With Marvia's local marketing automation software, we equip your brand with tools to quickly update messaging while eliminating the risk of brand damage by brand inconsistency or outdated materials. Whether you need to create different messages for different regions or need to respond quickly to a crisis, we got you covered.
Again, you can take advantage of the knowledge of your local users. More ears and eyes automatically means more knowledge about local changes that might otherwise have gone unnoticed by the central marketing team.
Benefit from Local Marketing Automation
Are you ready to slash your team's time on marketing production, improve brand consistency, and empower every member of your organization to connect your target audience with your brand?
Discover our local marketing automation software or reach out to one of our experts to find out how Marvia can help you and your organization reduce costs and increase output with local marketing automation.