Business is rapidly changing, your stores are closing temporarily, events are cancelled and big marketing expenses are pushed forward. Communicating with customers has never been more important than in these uncertain times. But, it starts to get increasingly difficult to uphold consistent branding when there is so much going on and speed to market is crucial.
With the rise of social media usage and general demand for new, fresh content in this digital era, marketing materials need to be drafted as quickly as possible and you simply cannot be involved in every step of the decision-making process. With the following three pieces of advice, you'll be able to maintain brand consistency as your business continues to evolve:
What is brand consistency?
Before we begin, let's take one step back: what exactly is brand consistency? Brand consistency refers to the art of keeping all of your communication, both internal and external, in line with the corporate identity. That means logos in specific sizes, well thought out colour schemes, a tone-of-voice that accurately reflects the company values, and so on. When a brand's communication consistently radiates uniformity, it has the potential to have a massive impact on brand recognition, perceived trustworthiness and customer loyalty. Not to forget the internal benefits; consistently communicating the right message in the brand's tone-of-voice can cause a spike in solidarity amongst employees and make it easier for them to spread your brand's message to the rest of the world.
However, as your business continues to evolve, all of the above is easier said than done. To avoid confusion or complex and time-consuming rounds of approval, staff needs to be agile and able to quickly deploy brand assets as if they've done so for years. Which is possible, with the right tools.
1. Compose a brand identity guide
Avoid unnecessary confusion and have clear guidelines right from the get-go with a corporate brand identity guide. A brand identity guide is the perfect tool to unite your brand's vision with those of your employees, creating a combined understanding of what global communication should look and sound like. Outline your vision; what does your brand stand for? What is the tone-of-voice, and why? But don't forget the practicalities: what logos can be used? What sizes can the fonts be? Which colour needs to be used for which campaign, and so forth. If composed well, a brand identity guide can serve as a company-wide communication guideline for employees of all levels, not just marketing professionals, for years to come.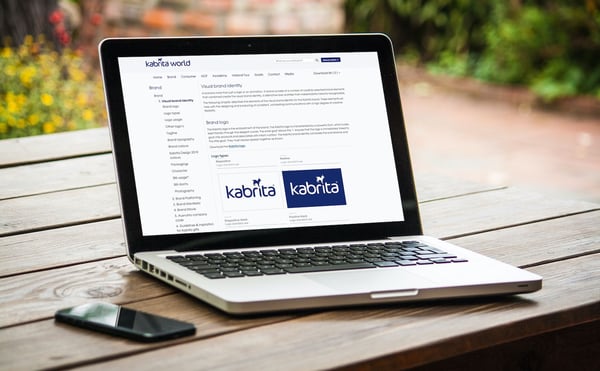 2. Implement DAM-software in your organization
DAM, short for Digital Asset Management, is a software system that allows organizations to collect content, graphic design, texts and other marketing materials in one central spot. Within DAM, access rights can be assigned per asset, depending on the clearance level of the user. The best thing? It's all online. In mere seconds, employees and other stakeholders can access pre-approved brand assets, such as logos, photos and videos, and start setting up the relevant campaigns. The fact that the right person can quickly access the right documents, ensures that you can kick-back and focus on your strategy without having to worry about your employees using the wrong fonts or images. This eliminates brand inconsistencies whilst increasing workflow efficiency and boosting local marketing initiatives.
3. Make use of a Template Manager
Business can be cutthroat; keep your enemies close, but your brand identity closer - with the assistance of a template management system. A template manager, an extension of DAM-software, simplifies the design process by granting staff and other stakeholders access to previously composed templates. As it's not likely everyone within your organization will have a natural talent for design (even though they might argue otherwise). Within these templates, the focus is solely on composing content for pre-designated areas. After they complete the design, it goes off for one final round of approval by the employees who are ultimately responsible for the project.
This gives organizations the ability to manage their brand identity from one central point, without completely restricting the creative freedom of their employees. As a result, this time saving 'more control, less management' approach, allows local branches to quickly create new initiatives and to truly take matters into their own hands, whilst still ensuring they are upholding the company standards. After they completed the design, it's even possible to send it off for one final round of approval by the employees who are ultimately responsible for the project.
__________________________
Let Marvia help. We want to make marketing as easy as possible - for you and others out there like you. We steer clear from overcomplicated software systems and confusing processes that take months to implement within an organization. Instead, we offer simple solutions with huge potential.
Marketing made simple. Let's get in touch!