Marketers understand the power of branding but maintaining consistency across a large organization is always a challenge. As an organization grows and becomes more geographically and structurally diverse, the brand often becomes fragmented. Different teams create marketing with individual designs and voices that bear little resemblance to one another. The space between the central brand and local marketing gets wider and wider. How can you give those teams and local marketers the flexibility to effectively engage their communities without diluting the brand?
How to maintain brand consistency
Many organizations start with a top-down approach, where the central marketing team establishes the brand identity, develops strategic marketing campaigns, and customizes them as needed for all different markets and channels. While this ensures brand consistency, it becomes unsustainable as the organization grows. The number of change and customization requests begins to outpace available design resources. This invariably leads to longer turnaround times, less focus on new campaign development, and requires an increased headcount on the central team. To address this, more responsibilities are pushed out to the local teams and partner agencies. This transition from a centralized marketing model to a more distributed marketing model is both a risk and an opportunity for the organization.
A brand is an experience
The iconography, colors, graphics, tone, values, and messaging of a brand all come together to evoke a feeling in customers. For that feeling to resonate, it has to be relatable and authentic. Especially authenticity is a crucial factor in deciding what brands consumers like and support. Local marketing is essential for making that authentic personal connection with an increasingly diverse customer base.
Unfortunately, local marketers, agencies, and partners are often a little too creative when adapting to their markets. This is commonly known as "going rogue". Brand style guide PDFs and campaign briefs are not enough to ensure that marketing in a multi-channel world supports the brand vision. A great deal of time and investment goes into creating the brand identity, and it can be both frustrating and costly when marketing at the local level hits the wrong notes.
The costs of a negative experience
The costs of failing to scale the brand strategy effectively can be high. Negatively impacting both the revenue and expense sides of the equation. Brand erosion, reduced sales, production costs, time-to-market, and legal risks are just some examples.
If the purpose of branding is to increase profits, it is essential to examine how marketing assets are being created, deployed, and optimized to determine if changes can be made to improve business outcomes.
Brand Management Software
So how can you build local authenticity and trust while reinforcing instead of diluting the brand?
Here are six tools and tactics that help large organizations ensure brand consistency while still empowering local marketers to self-create customized, on-brand assets for all channels.
1. Digital Asset Management
A centralized cloud-based DAM improves efficiency and reduces the risk of incorrect assets being used. It accelerates creativity and production cycles and is updated and synced in real-time for everyone across the organization. It also makes it easy to share the right assets with external channel partners and agencies.
2. Templates
Creating dynamic templates helps central teams ensure brand consistency while enabling local sales, marketing, and partners to self-create relevant and customized marketing materials even if they have no design experience. Flyers, signs, product sheets, proposals, social posts, emails, ads, or even videos can all be as locked down or customizable as you want. Templates can preload relevant data into a user's templates to automatically customize and personalize creative. They no longer have to manually change contact information, imagery, pricing, graphics, regional info, or anything else you choose again. Using templates speeds up time to market, ensures brand consistency, and dramatically reduces production costs.
3. Campaigns
Having a campaign management tool that takes the user through a step-by-step process, including all of the appropriate assets and channels, guarantees consistency while still providing options and flexibility for local customization.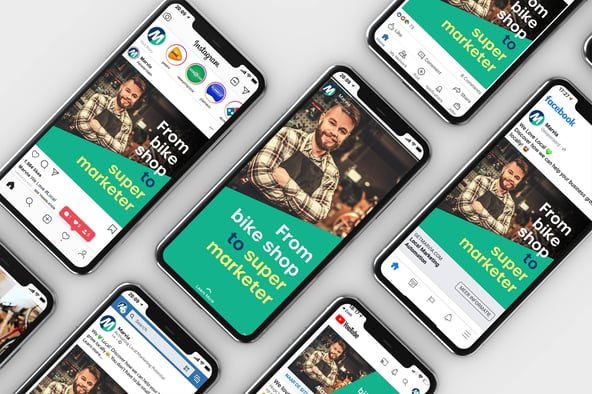 4. Kits
Many marketing activities like events and onboarding new partners are repeated over and over again. A simple way to achieve consistent and repeatable marketing results is by providing users with a complete set of materials, also known as a "kit," that has everything they need.
5. Workflows
Streamlining marketing requests and approvals with straightforward and efficient workflow tools can provide an extra layer of governance without the back-and-forth emails and version control confusion.
6. Interactive Brand Guidelines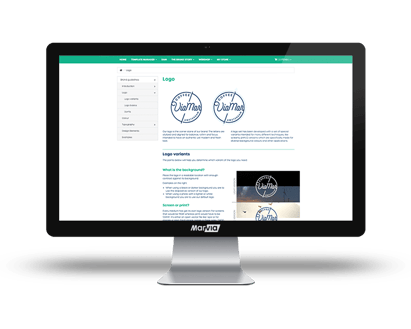 Go beyond the static brand style guide and ensure company-wide consistency, even at the local level. An interactive brand guideline syncs in real-time and is always up-to-date. It is quicker and easier to use than a traditional brand book and enables direct download of assets for immediate use.
Stay on-brand
Using these tools and processes, any large organization can ensure that its marketing is on-brand, every time and everywhere.
Learn more about our brand solutions or reach out to one of our experts to learn more about how Marvia can help your organization with staying on-brand.