Creating local campaigns in Google Ads has been possible for a while. Still, the impact of COVID-19 has ensured that Google is rapidly working to connect the digital and physical world even better. That is why it is time to dive deeper into these local campaigns and provide you with an update on the latest possibilities.
What are Google Local Ad Campaigns?
Google local ad campaigns are a solution for companies that focus on the physical store. They help your brick-and-mortar business to attract locals through ads on Google Maps, the search and display network, and YouTube. The campaign type offers various targeting options and makes it possible to assign store visits to your online advertising campaigns.
Why should you use Google local ad campaigns?
Don't underestimate how many people search locally daily: 46% of all Google searches are locally oriented. Research also shows that when people search locally, the conversion rate is higher, especially for mobile users. Also, the use of a geo-modifier in searches such as "Nearby" has increased by more than 200% in the last two years. So it's more important than ever to make sure your business is visible when potential customers are looking for your products or services.
Local campaigns make it easy for businesses to be top of mind at these times. Also, they offer a range of options that respond to the changing purchasing behavior as a result of COVID-19, more on that later. Local campaigns are therefore an essential part of your local marketing strategy.
Who can use local ad campaigns?
Unfortunately, local campaigns are not for everyone. Besides the fact that you must have a physical store that can be visited by customers, Google has set several criteria for the conversions from store visits:
You must have more than 10 physical locations in countries where store visit measurements are available;
You must have a minimum of 1000 ad clicks and viewable impressions;
Your Google My Business account must be linked to your Google Ads account;
At least 90% of your store locations must be verified in GMB;
Location extensions or location extensions for partners must be activated in your account;
You have enough store visitors to meet privacy requirements. It is difficult to determine exactly what is sufficient because Google says this differs per advertiser.
If you meet all these conditions, you will see the option "Local store visits and promotions" when you want to create a new campaign, and you can get started with your first local campaign.
More options to boost your local marketing
As mentioned earlier, Google is responding rapidly to the changing landscape as a result of COVID-19. New features that were launched this month show that they are fully committed to a hybrid model that combines traditional retail with e-commerce.
Attributes for local campaigns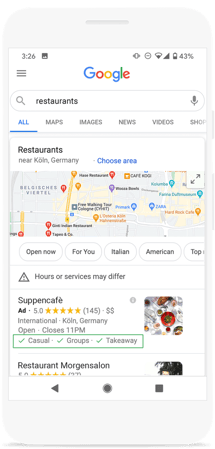 Several local business attributes, which Google calls "attributes," are available in Google My Business. Think of "Women-led", "Black-owned", "Curbside pickup," or "Outdoor seating". Most of these service features depend on the category of your business. Restaurants, for example, have other options than hospitals. Some of these attributes are now visible in local campaigns.
These ad features, such as curbside pickup and in-store shopping, can help consumers who are trying to make a purchase decision. An additional advantage is that the local campaign ads become visually more prominent, which should improve effectiveness.
BOPIS
According to Adobe's Digital Economy Data Index, "Buy Online, Pick-up In Store" (BOPIS) grew 250% in the last 12 months. No less than 30% of online shoppers indicated that BOPIS is preferable to home delivery. This behavior can be explained by the fact that many people have started shopping online to avoid contamination during store visits. Also, they are looking for the advantages of buying locally, such as taking the product directly home or being able to return it in the store.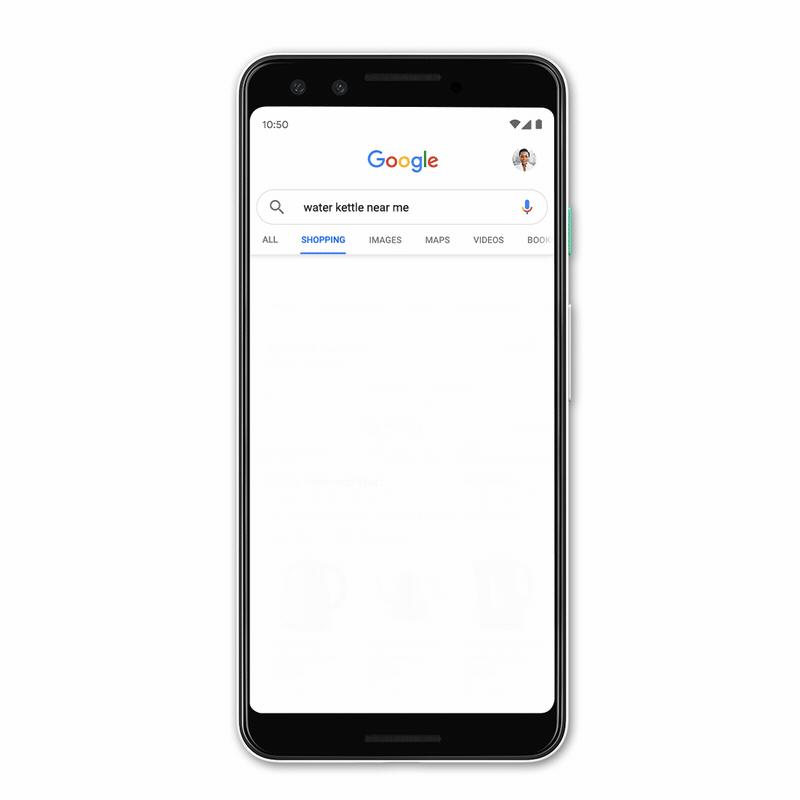 In mid-September, Google announced new and improved functionalities for Google Shopping that respond to this trend, such as a "Nearby" filter to see which products are locally available and "Local Stores Card" with local stock information and other relevant information about the store in question. A week later, the "Pickup later" functionality was added to the local store inventory ads. This allows you to promote products that may not be available in-store right now but can be picked up in a few days.
There are definitely a few great additions that make the local stock even more visible in the search results and convince people to come to your physical store.
Smart bidding for retail sales
Smart bidding for store visits has been around since September last year. It optimizes bids for physical store visits. Your campaigns can respond instantly to changes in consumer behavior and fluctuations in-store visits, and adjust your bids for each ad auction. This form of smart bidding mainly targets large retailers and large restaurant chains.
Google is now extending this functionality with store sales measurements to optimize not only for visitors but also for sales. This option will probably only be available to large retailers with multiple locations and sufficient volume. Still, for them, it is undoubtedly an exciting option to generate additional sales in your stores.
Local Services Ads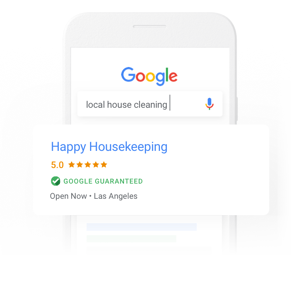 In addition to local ads for products, it is also possible to use local services ads from September 30. These ads help consumers find local, reliable professionals such as plumbers, housekeeping, and electricians. Potential customers who see the ad can contact the provider directly from the ad by phone or email.

In America, it is also possible to book appointments online. This functionality is not (yet) available in Europe. You determine your budget in advance and only pay if contact is made (pay-per-lead). Not when the ad is clicked.
Google Guarantee Badge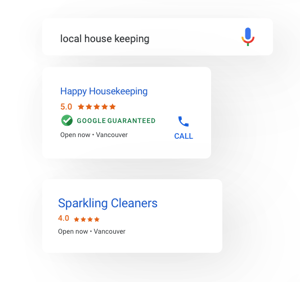 To ease the search for a reliable service provider, the local services ads are supported by the Google Guarantee badge. This badge gives customers the benefit of getting a refund from Google if they are dissatisfied with the work's quality.

An attractive badge for advertisers to obtain because it will undoubtedly benefit the CTR. To be eligible for Google Guarantee, Google verifies that your business meets local licensing and insurance requirements.
Grow your local sales
Although the world is still looking different from the beginning of 2020, connecting offline and online has never been more critical than it is now and it will only increase in the coming years. Local campaigns and local marketing can play an essential role in your organization's (local) success. In any case, Google offers you handy online-to-offline tools to bind customers to your physical locations.
Want to know more about local campaigns? Check out Google's Deep Dive or take a look at Think with Google.
__________________________
Let Marvia help. It is our mission to make brands more successful by activating their local marketing potential. We steer clear from overcomplicated software systems and confusing processes that take months to implement within an organization. Instead, we offer simple solutions with huge potential.
Local marketing made simple. Let's get in touch!
---
The Dutch version of this article has been published on Frankwatching, the most popular marketing & tech blog in the Netherlands, on October 14th 2020.