Traditional channel marketing is mainly inefficient. Without a single management platform, controlling all partners involved becomes difficult, unproductive, and costly for brands. What's more, most partners do not have in-house marketing professionals or resources to ensure that marketing messages are brand-consistent.
A study by Provoke Research found 31% of marketers say lack of uniform brand guidelines make it challenging to incorporate brand identity into marketing collateral. This means that, for the most part, marketing messages and campaigns brought to life by local partners are inconsistent, mixed, or outdated. Smart brands are tapping into Through-Channel Marketing Automation (TCMA) to alleviate these issues and create a streamlined local marketing process. Even before we get into Through-Channel Marketing Automation, let's first define what it is.
What is Through-Channel Marketing Automation?
Through-Channel Marketing Automation software is a SaaS solution that helps brands manage marketing across multiple channels and boost local sales by maintaining brand compliance within marketing resources and assets. Through-Channel Marketing Automation is also referred to as Distributed Marketing Management Software.
Forrester's Principal Analyst Jay McBain coined the term TCMA. According to Jay, all partners, alliances and channels, need to be interwoven in a single system, with the same passion. This means brands should have a marketing portal that promotes clarity and focus for all their marketing activities in collaboration with local partners. As Jay MacBain puts it, a TCMA platform helps brands amplify customer-facing content and messaging regardless of locality or marketing channel.
Through Marketing-Channel Automation enables brands to:
Ensure brand compliance for all the brand partners
Manage marketing across multiple channels
Access insights on the performance of marketing collateral and campaigns
How Does Through-Channel Marketing Work?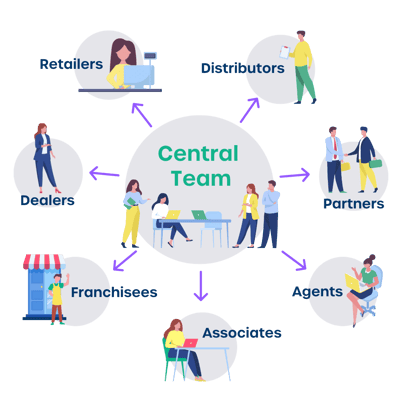 In the most basic explanation, Through-Channel Marketing allows brands to carry out local marketing cost-effectively while ensuring brand compliance. For instance, a car manufacturing company will often collaborate with dealers to promote products through local marketing. In this case, a TCMA platform will come in handy for the car manufacturer to disseminate marketing messages at scale. The local partners can access marketing materials such as visuals or campaign templates and customize them to their localities without diluting the brand's identity.
Consequently, TCMA ensures that the dealers create brand-compliant campaigns, reflecting the messaging of the brand, but still geared towards their local audience. The local partners don't have to make numerous calls to access campaign collateral. On the other hand, the brand gains insights into the performance of marketing campaigns across all partnerships.
Who Can Benefit from TMCA Platforms?
Both brands and their local partners will benefit from Through-Channel Marketing Automation. In most cases, brands will work with hundreds of local partners including, sales agents, retailers, local agents, dealers, and franchisees, which would be chaos to manage without a TCMA platform. With TCMA, brands can ensure brand compliance for all their partnerships. It will also unburden HQ marketing leaders from the issue of oversight or micromanaging local partners. As for local partners, they can create marketing materials on the fly with pre-approved templates. This translates to saved resources, less frustrated partners, and better insights for the brand.


Why Should Your Brand Invest in Through-Channel Marketing Automation?
There are various reasons why TCMA is beneficial for your brand. We list the four most important ones.
1. Better Returns for Your Marketing Investment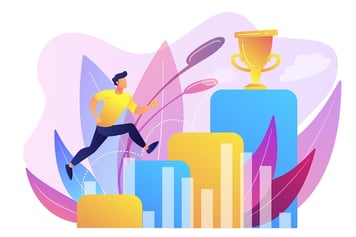 Without a TCMA, your brand marketing team will be spending most of its time training and following up on non-compliant partners. This is not only ineffective, but it also leads to a wastage of resources that brands could otherwise channel into optimizing and creating better campaigns. A TCMA platform enables your brand to streamline the process— saving you both time and resources, which results in better campaigns that are not diluted by inconsistencies. When brands use TCMA correctly, they can be assured of subsidized marketing costs when creating brand-compliant materials, not to mention the flexibility and agility of producing these materials.
Learn how the right tools can help you reduce marketing costs


2. Reach More Customers with a Streamlined and Automated Platform
This ties back to optimizing your brand's marketing campaigns. Instead of focusing on rectifying marketing mistakes, brands will spend more time collaborating and executing effective campaigns. Local partners will no longer feel incapable or left to chance during marketing campaigns. The result is a cohesive marketing campaign, a wider audience reached, and local partners who feel and know that they are part of a process. What's more, with consistency taking the top spot, your brand is sure to enjoy customers' loyalty and more referrals coming in.


3. Strengthen Relationships with Your Channel Partners
It's common for local partners to think of brands as simply another part of the supply chain— a TCMA platform reverses this thought process. Channel partners now get to see brands as a collaborating partner that's working with them. This platform unites the brand and channel partner towards a common goal of reaching the local audiences. Because the brand guidelines and marketing messages are clear, partners and brands will develop a closer relationship built on trust and collaboration for the better good of achieving their sales goals.


4. Measurability and Analytics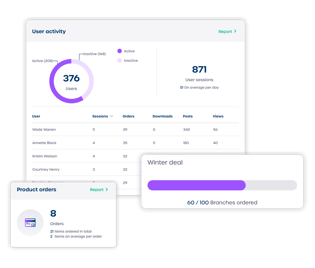 Perhaps even more important is how easy it becomes to measure the performance of all your marketing activities under one platform. The insights will play a significant role in determining whether your marketing assets and strategy are working in tandem with the goals you had as a brand. TCMA is an excellent way for brands to uncover what is working and what is not in their marketing collaboration with partners, from the campaign response to how marketing assets are being used.


What to Look for in a Through-Channel Marketing Automation Platform?
When you decided that a TCMA platform can be beneficial for your brand, it's time to look for a platform that helps you with your specific challenges. Consider also looking at a tool that:
1. Integrates Seamlessly With all Platforms Buyers Engage With
A recent study showed that 35% of Gen X customers expect a seamless experience across different digital channels. The number rises to 52% for millennials and younger generation customers. What does this spell for your business? It shows that the TCMA platform you select should integrate with multiple digital channels where customers are likely to engage with your business.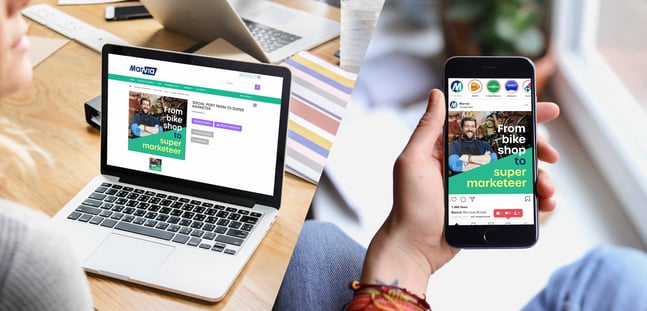 2. Enhances and Automates Personalization and Contextual Engagement for Buyers
IIn the same survey mentioned above, 32% of consumers expect content and products to be personalized based on past interactions with a business. Hence, the TCMA platform you go with should allow and automate personalization and contextual engagement. It should also integrate with third-party apps and extensions that deliver personalized messages to buyers.


3. Accommodates Channel Partners' Needs
A TCMA platform needs to meet the needs of partners at all ends. It should offer user-friendly functionality and lots of opportunities for brands to support local partners in their local marketing efforts. Basically, a TMCA platform should be simple enough to use yet robust to meet the diverse needs of local partners without paving the way for brand dilution.


Through-Channel Marketing Automation Is an Underused Marketing Essential
It's clear. Through-Channel Marketing Automation can enable brands to gain insights into local marketing analytics, collaborate better, and cut marketing costs. But why aren't brands tapping into this all-in-one marketing solution? In fact, Forrester estimates that only 50% of brands use TCMA software. Out of these, only 17% of brands are content with what they achieve with their TCMA platforms.
Also, Forrester found that only 20% of partners deliver 80% of all channel sales in the same study. The rest, 80%, aren't bringing in sales. So, how do you get the other 80% to participate? Marketing will have to play a massive role in boosting sales, but it has to be done within brand guidelines with the help of TCMA.
According to Jay Mc Bain, for brands to realize the benefits of TMCA, they first have to understand their partners. How do they go to market? What do they specialize in, and how do they prefer to be enabled? Next is to invest in a flexible and highly automated platform to meet the needs of local partners.


What is the Future of TMCA?
More than 75% of the world's commerce is through indirect sales, meaning that most products reach customers through channel partners. This means that TCMA is only set to grow as more brands look for ways to optimize their channel marketing.
As per Forrester's research, TMCA software is predicted to grow to $1.18b by 2023, at a CAGR of 25.2%. The Covid-19 pandemic is also likely to result in brands scaling their use of TCMA platforms. This can be attributed to the fact that brands are finding it hard to disseminate new messaging that addresses the quick changes in the market. Budget cuts and limited personnel due to layoffs may also contribute to TMCA platforms picking up as brands try to optimize marketing and cut costs.


Is Your Brand Tapping Into the Proven Benefits of Through-Channel Marketing Automation?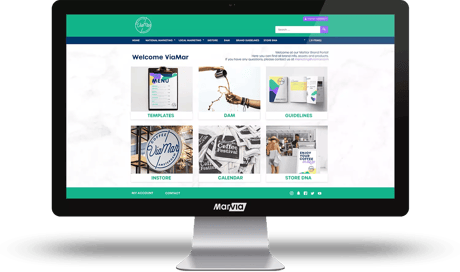 A TMCA platform is essential for brands to engage with customers locally without diluting their brand identity or spending countless hours micromanaging channel partners. Is your brand tapping into these benefits? Marvia can help you automate local marketing with an all-in-one platform that integrates seamlessly with the channel partner's needs.
Book a free demo to learn how our Local Marketing Automation Software can help your business grow.