Release Notes is Marvia's quarterly update on the most important new features and updates in our platform. This time we will tell you more about our new search experience, renewed navigation module, and new features within our Adobe CC connector.
Advanced Search 🔍
Asset search should be as fast and easy as possible. We've updated searching in the DAM so users can now fulfill their need for speed! With Advanced Search, users can quickly find everything they need through an intuitive filter structure. What's new?
Each search you'll do will now highlight the number of collections and assets found.
We have added a tags filter including a clickable tag cloud. The tag filter gives you an overview of the most used tags in your DAM. When choosing one tag, it automatically updates the other available tags. Tags that are displayed in the asset information, are now clickable as well, directing you immediately to the search results for this tag.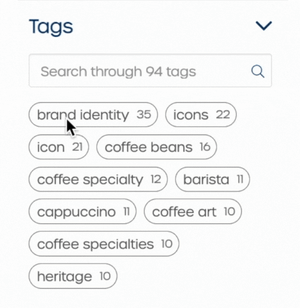 Often, assets have multiple versions that only differ in file type. We know everything about accidentally downloading a JPG instead of a SVG file. To avoid this, we have now included a dropdown, allowing you to filter the file type.
Use all filters together and you will find the asset you're searching for within a few seconds!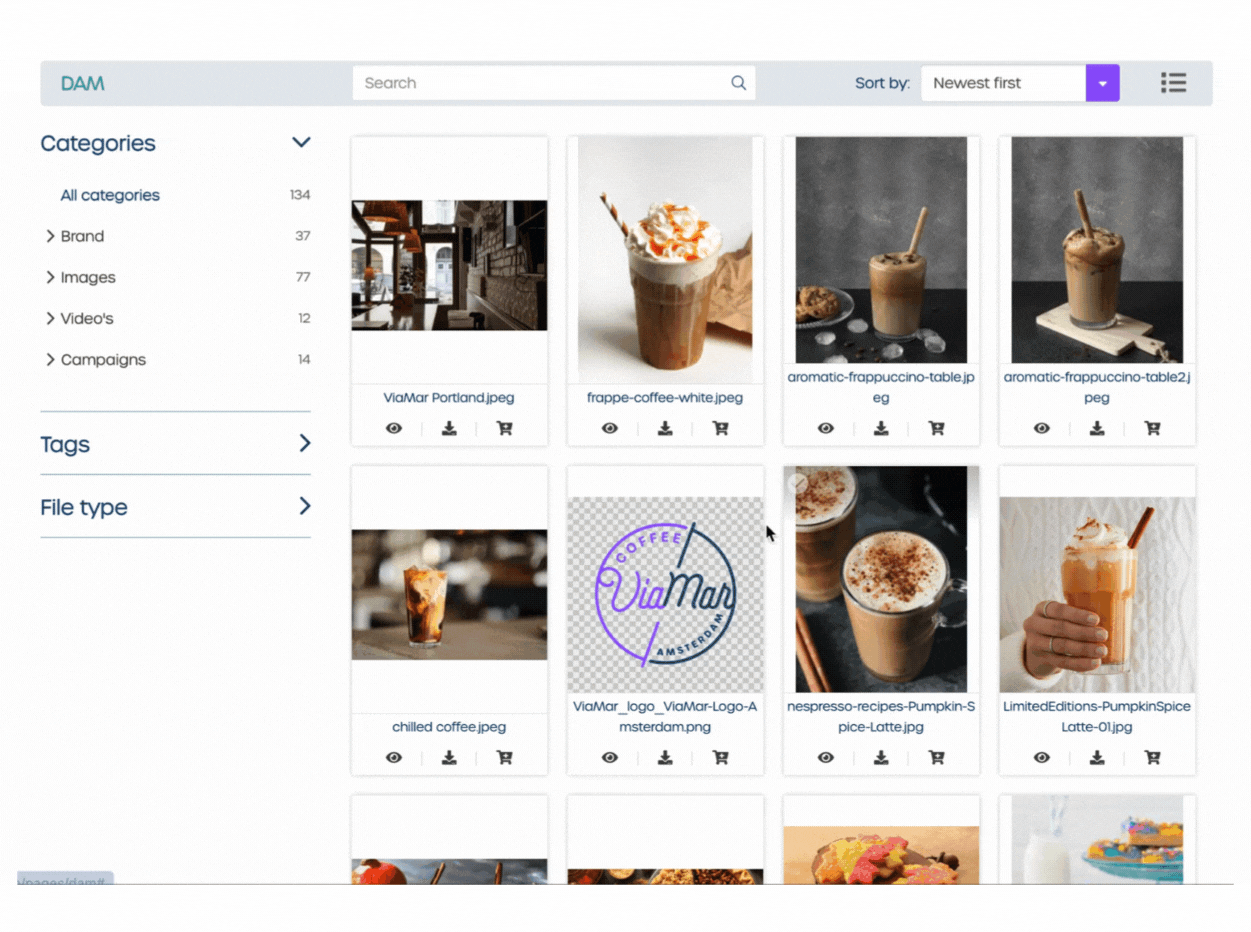 Adobe CC 🎨
Streamlining your design processes just got easier! As you might know, the Marvia Adobe CC connector enables you to integrate your Marvia DAM with the Adobe CC apps. Besides having access to your Marvia media library within the Adobe CC apps, it's now also possible to upload created Adobe files directly to the Marvia DAM.

How does it work? If your brand uses the Marvia Adobe CC connector, you or your designers can create anything in Photoshop, Indesign, Illustrator, or any other Adobe app and upload it to your Marvia media library without leaving the app. New assets will be imported into the 'Uncategorized' folder in the admin where you can provide the new asset with the right tags, folder, and other information.

It's also possible to import files from your Marvia media library, edit the file and directly update and save the version in the DAM.

With this feature, interruptions in your creation processes are a thing of the past. Spend less time searching and switching between apps and more time on creativity.

Read more about Adobe here. If you're already a customer and interested in this integration, contact your Customer Success Manager.
Products form builder ✅
We've created a form builder that you can use to add forms per product. There are many different elements you can choose from, like dropdowns, checkboxes, and text fields. With this feature, you can for example make a dropdown with multiple sizes or colors for a clothing article, or let users add a note or preference to their order.

Navigation 🧭
We have made it very easy to edit the navigation structure in your portal. In the new admin (beta), go to 'Navigation'. Here you can directly customize and add new items to the front-end menu structure of the portal. Create or edit (sub)menu items and link them to the right page. It's also possible to edit the order of the menu by dragging and dropping the items.
New admin 🆕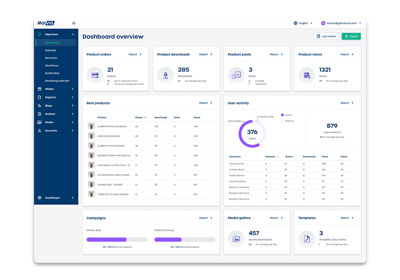 Multiple modules are now finished in the new admin (beta). Some of them even have more functionalities than before. These modules are now directly linked from the old to the new admin.
View the list of new admin modules and features.
That's it for the Release Notes of this quarter! Release Notes is a summary of the most significant changes that have been made to our platform in the last three months. Our Changelog is the place to stay informed about all new features, updates, and bug fixes.


Stay in the loop 💌
Subscribe to our newsletter to receive news about product improvements, new features, company news, and (local) marketing tips straight in your inbox (don't worry, we will only mail you a few times per year).