Horecanetwerk is a Dutch foodservice platform. Their mission is to give everyone enough opportunities to distinguish themselves. To accomplish that they talk to manufacturers on a daily basis. This time they held an interview with Marvia's Business Development Manager; Ray de Jong.


---
Tell us Ray, who are you, and what do you do with Marvia?
Hi. I'm Ray. Thirty years old, live in Rotterdam, work in Amsterdam, and am responsible for the Sales and Business Development of Marvia. Here I operate between marketing and sales. I like to keep a close eye on marketing technology and to inform customers as a reliable partner.
And for the people who haven't heard of Marvia yet? What are you doing?
We build software for companies that want to grow their brand. This brand is often used locally, where the challenge is to communicate from a clear message and corporate identity. For this, everyone must have access to the right materials to advertise locally. With our software, every company, franchise formula, or corporate organization can centrally manage marketing content. Subsequently, users can edit or download this content locally, and in this way, everyone can create and publish statements within the set house style rules, which contributes to the growth of the brand.
OK?! What are the trends in that segment now?
The most important trend at the moment is that "Branding becomes everything". Your company is your brand and is, therefore, one of the most critical assets within your company. To grow a brand, companies want to exclude uniformity in appearance and proliferation. Another development is "white labeling", and this means that the marketing application is presented entirely in the look and feel of the relevant organization.
And? Do you also respond to these trends?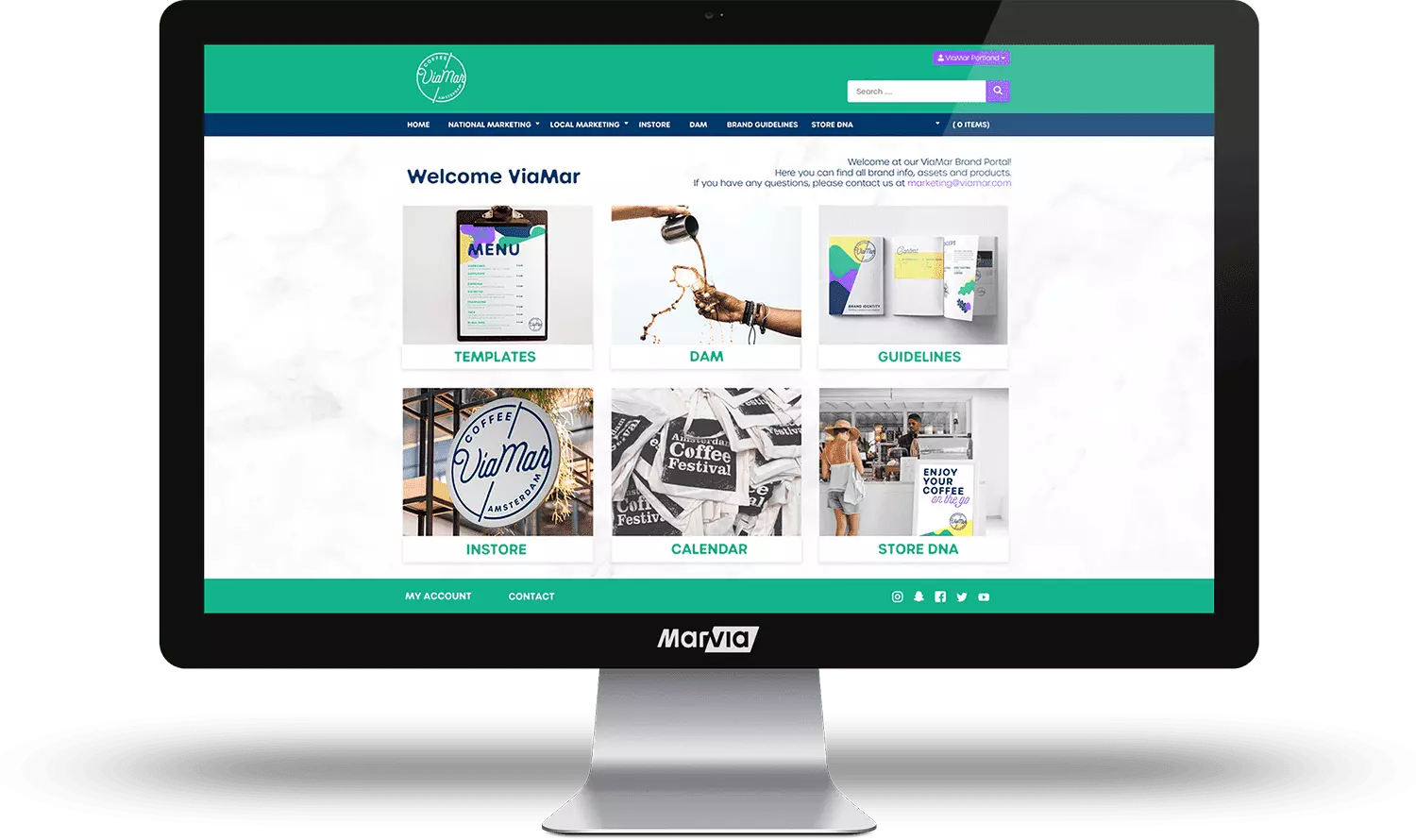 Our tools have been developed to make this possible. We do this through our cloud-based marketing application, and because we work with modules, a partner can upgrade and downgrade to any desired solution. Consider, for example, the modules: DAM (Digital Asset Management / Image Bank), Branded Templates (creating in defined house style templates), and the Brand Guidelines (digital house style guide).
Check. And then everything in-house or together with others?
When you talk about the further development of our software, we do not work together with others. All this is done in-house by our team of developers. If you are talking about linking with other systems, then the answer is yes. Marvia is easy to connect with other software. Think, for example, your CMS and CRM systems that you can link through our APIs.
Why do companies need to get started?
Companies don't need to start from me, let me put that first. However, I hear daily that companies of all sizes lose control of the brand and corporate identity due to rapid growth. Managing an increasingly complex playing field with more channels and cooperating parties means that it has become a daily task to roll out a campaign.
The consequence of this is that relevant content such as videos, photography, and images end up in a chaotic flow of communication that is very labor-intensive to manage. All in all, an inefficient process in which the correction rounds, an extended time to market, and corporate identity rules that are not adhered to lead to frustration. The above reasons are some examples that companies are increasingly struggling with. One central place to easily manage and create all of this often offers a solution to this problem.
Sounds interesting. How does the sector respond to this story?
If I focus purely on the food sector, there are positive reactions from our customers. Think of Domino's Pizza and Sligro, because they already work with our software. My colleagues and I are proud of the fact that these companies have chosen us, and we help them to make their company and formula futureproof.
Beautiful. And now? What will you do in the coming months?
The coming months are all about forecasting and determining how we can help our customers realize their marketing plans in 2020. In this way, we help them stay ahead of the competition. Also, we continue to work on the further development of our software and the expansion of our team.
OK. And what is your biggest challenge now? What do you need help with?
The biggest challenge lies in staying up-to-date on what is going on at different companies. I think it is essential to stay up to date so that we can continue to think about generic solutions that can benefit multiple customers.
Well, this is your chance! What would you like to say to the readers as a pitch?
Pitching is not necessary. I would instead ask a question, because what are your marketing challenges for 2020? I like to challenge readers to get in touch to take a look at where marketing processes can be organized more efficiently. From that point of departure, it is possible to look at how brand experience can be used coherently and uniformly and possibly even cost-saving.