De Back-end Developer breathes code. She/he writes structured and scalable codes based on unit tests, ensures that the application remains operational, maintains the existing codebase, resolves bugs and security issues and ensures fast performance. Due to the upcoming move to GraphQL and React, this role is perfect for a Back-end Developer who wants to be part of this transition.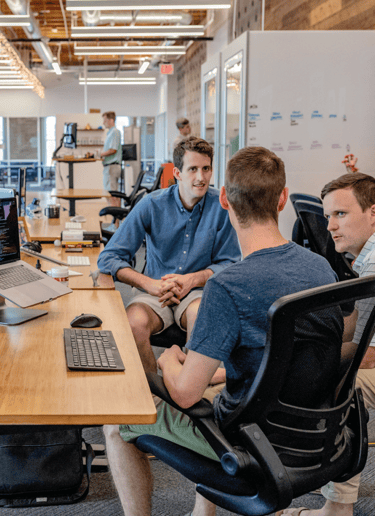 Based on the existing code, customer insights and general market trends, OKRs are drawn up every quarter, which the Back-end Developer will realize together with the Development team. The Back-end Developer does not only carry out assignments but also devises them herself/himself. The ideal candidate mainly thinks in terms of possibilities and always keeps the software's end-user and admins in mind. If she/he comes to an interesting insight, the Back-end Developer immediately converts her / his technical knowledge into usable and kick-ass concepts. And knows how to make others enthusiastic about this with ease.
The Back-end Developer is a real rock in the surf. The great thing about this position is that it also has a practical component. The ideal candidate likes to coach the young talents, keeps the team spirit up to standard and likes to share her / his knowledge with fellow developers. The company's success is entirely determined by the close-knit group of "Marvians", and only together can the company reach the top. Therefore, the role is ideal for a Back-end Developer who wants to use her / his leadership qualities or want to give it a significant boost.
The Development team works in agile sprints of three weeks. In the first two weeks, work is carried out according to the schedule, and in the third week, the built software is reviewed, and the final touches are applied. Each Developer spends the time that remains on personal development, research and experimentation. Marvia wants to stay at the forefront, so at the end of the sprint, everyone presents potentially interesting concepts during the "Academy." In this way, everyone can leave a personal stamp on the product.
All in all, Marvia wants to expand her scalable application considerably in the coming years. And that works out well, because the Back-end Developer likes to be involved in the developments and wants to contribute to this. It is also good to know that Marvia is known as an informal, accessible and flat organization with a no-nonsense mentality and not to forget: plenty of drinks on Friday afternoons in the Amsterdam head office.